What's New
the association
CANSEC registration now open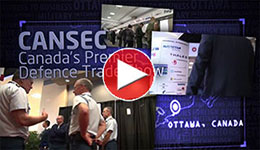 The two-day CANSEC trade show will be held on May 27-28, 2015, with the business development program extended to a third day, May 29th. CANSEC 2015 will also feature 53 new exhbit booths, bringing the total number of booths to 645. Read more >>

Weatherhaven CEO named Defence Executive of the Year
CADSI President Christyn Cianfarani has congratulated Weatherhaven CEO Ray Castelli, a member of CADSI's Board of Directors, on being named Defence Executive of the Year by Canadian Defence Review (CDR), a leading Canadian defence and military journal.
"Mr. Castelli has been a valued member of the CADSI family for quite some time and we salute the recognition he has received," Ms. Cianfarani said.
CDR Editor-in-Chief Peter Kitchen noted in an editorial comment that, in addition to Mr. Castelli's remarkable success with Weatherhaven and his work with both CADSI and the Canadian Commercial Corporation, "it was Castelli's selfless efforts to promote and build up Canada's defence industry that caught our attention." Read the article >>

Mark your calendars!!!
2015 calendar of events now available. Don't miss your opportunity to learn, grow your business and network at all our world-class events. DOWNLOAD the 2015 events calendar.
Latest Defence & Security News