Defending Against COVID-19
Esri Canada supports community resiliency during the COVID-19 pandemic
Esri Canada, a geographic information system (GIS) company, has launched a GIS-based resource hub to help communities and governments monitor COVID-19 outbreaks, manage the crisis, maintain operational continuity, and increase resilience for long-term recovery. This hub and its resources are free and available to the public.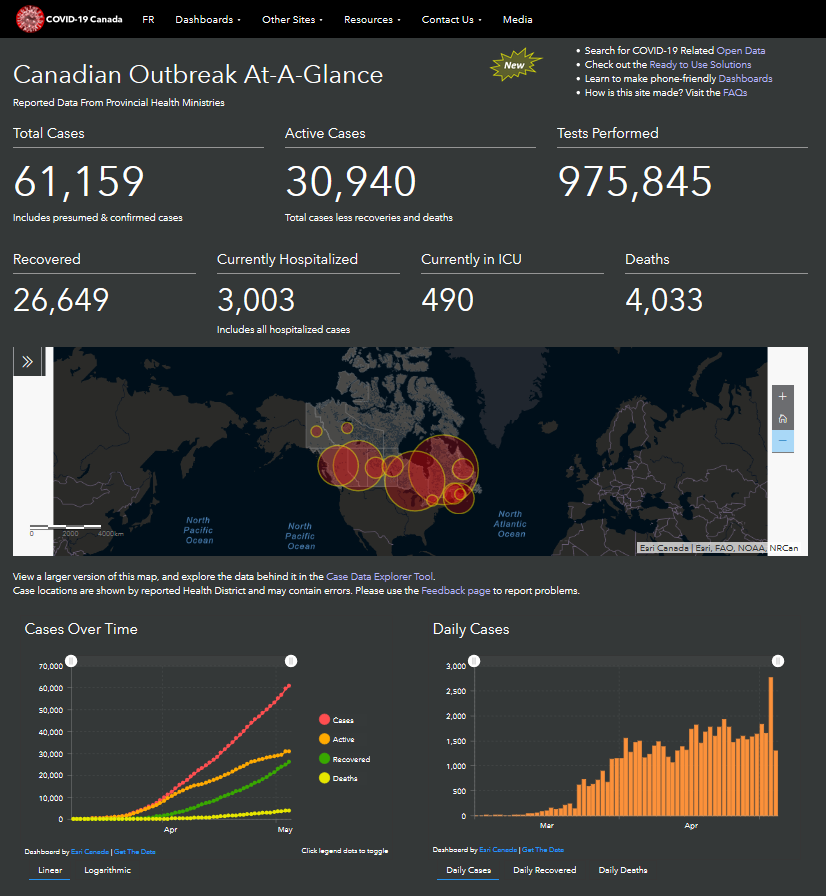 Using open data, the resource hub allows users to explore COVID-19 case data, view regional trends, and receive a daily epidemiology update. To help communities and organizations communicate the impact of COVID-19 and its response efforts, the hub also provides templates for communicating cases, managing business operations for facilities and staff, and tracking hospital/PPE inventory. These resources are complemented by a suite of learning tools and webinars to support users in their communications, such as by launching a localized Coronavirus Response Hub or when deploying a crisis management response.
For more information, visit the ESRI Canada COVID-19 Resource Hub here.
Image Above: A snapshot of Esri's COVID-19 Resource Hub, provided by Esri.
About Esri Canada
Esri Canada is a privately held, Canadian-owned company that provides world-class enterprise geographic information system (GIS) solutions. These solutions help organizations across industries make timely, informed and mission-critical decisions by leveraging the power of geography.
Contact Esri Canada
Website: https://esri.ca/en
Share Your Story!
Are you contributing to Canada's COVID-19 Emergency Response? Share your best stories and examples here: https://bit.ly/defenceindustrycovid19support
Posted 2020-05-12
Last Modified 2020-05-25 14:23