Our industries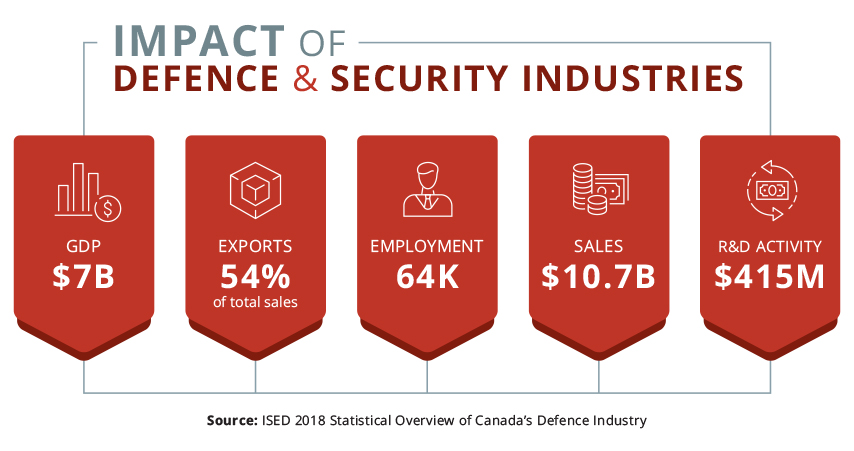 The Canadian defence and security industries are an essential and driving force in Canada's economy. They are high wage, export intensive, technology rich, and pan-Canadian. The majority of their products and services are "dual use", having both military/security and a civilian/commercial applications including support in humanitarian efforts, mapping the artic seabed, and space exploration. They are national in scope with regional specializations in specific activities.
The industries are not only successful in Canada but on the international stage as well which is key in remaining competitive at home. They compete globally in a highly managed markets where government protectionism is the norm and they need to be the best in the world. That over 50 per cent of Canada's defence and security industry's revenues come from export sales is testament to their world-class standing.
In response to such an innovative and dynamic market, the Government of Canada released its widely anticipated Defence Policy Review, entitled Strong, Secure, Engaged (SSE) in June 2017. SSE commits the government to a substantial increase in defence funding, from $17.1 billion in 2016-17 to $24.6 billion in ten years, which implies a major increase in defence procurement output. It is also the first official government document that identifies an innovative defence sector as one of the Government of Canada's five domestic defence priorities, alongside the conventional priorities of the defence of Canada; disaster response; search and rescue; and enhanced presence in the Arctic. It also identifies intelligence, space and cyber as increasingly important elements for Canada's security and defence strategy.
Canada's defence industry includes, but is not limited to, fabrication and maintenance of aircraft, armoured vehicle and naval ships, training and simulation, information and communications technologies, shelters, advanced textiles, satellite and space technologies, and munitions.
Canada's security industry delivers goods, services and innovative solutions to governments, communities, security agencies and the private sector. Its products and services cover community safety, emergency management, border security, disaster relief, critical infrastructure protection, transportation security, cyber-security, search and rescue, and counter-terrorism.

For more information on Canada's defence and security industries:

Statistical Overview of Canada's Defence Industry in 2018
Aperçu statistique de l'industrie de la défense du Canada en 2018