Defending Against COVID-19
ATCO & Weatherhaven partner to deliver Mobile Health Units, ATCO operates health screening checkpoint at Canada/US border
Two Canadian companies – ATCO Ltd. (Calgary, AB) and Weatherhaven Global Resources Ltd. (Coquitlam, BC) – have partnered to deliver up to 10 Mobile Health Units to support the federal government's COVID-19 emergency response.
"As the pandemic strains our nation's medical infrastructure, collaboration among businesses and government will be key to supporting public health," said Nancy Southern, Chair & Chief Executive Officer, ATCO Ltd. "That's why we are immensely proud to do our part to increase Canada's healthcare capacity,"
Sweena Chatha, Director of Medical Sales at Weatherhaven echoed this sentiment: "Our people are honoured to be part of the effort to confront COVID-19."
The units can be rapidly mobilized to support health authorities across the country – from urban to rural to Arctic environments, and in support of provincial and Indigenous governments as necessary.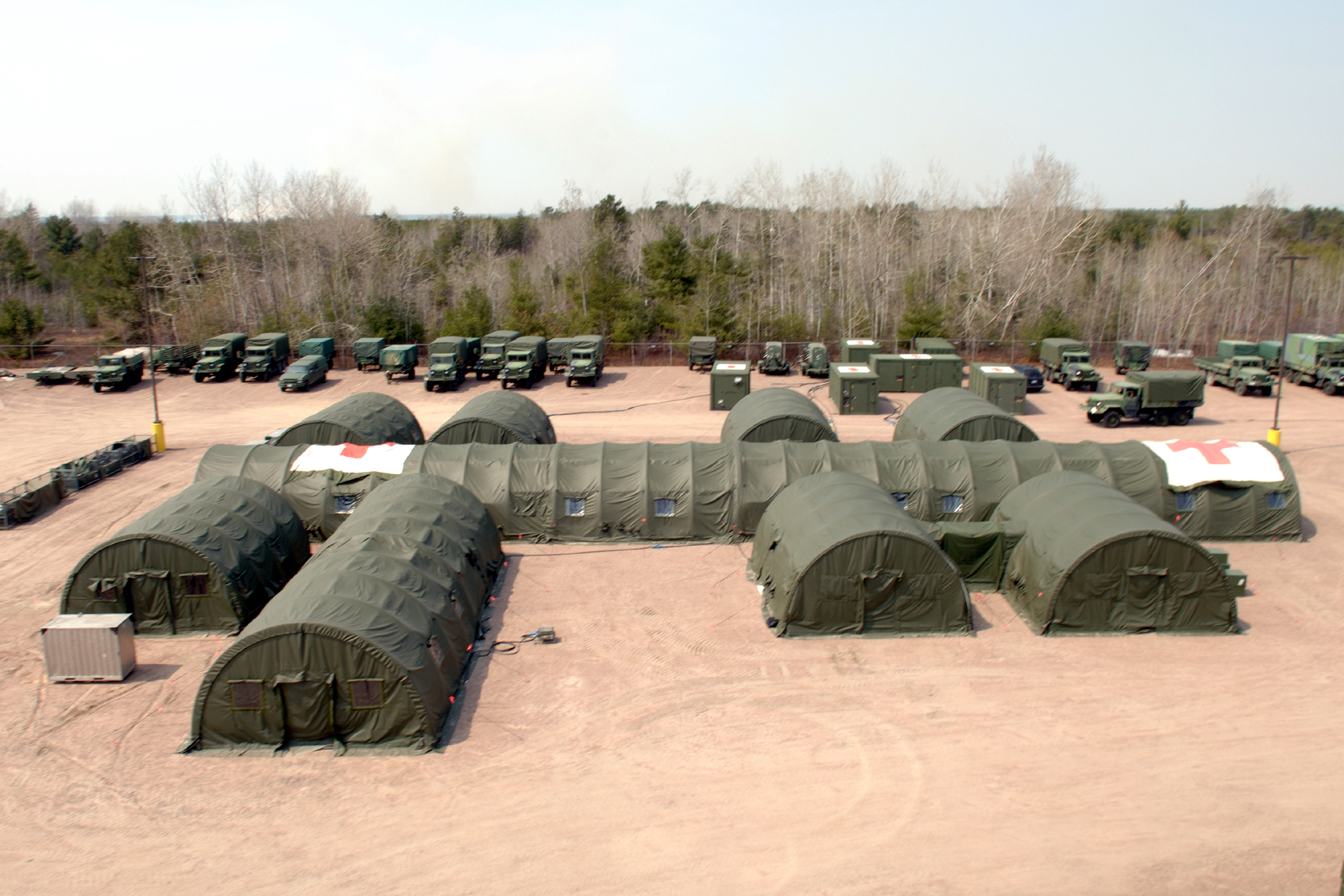 The specially-designed units are hybrid modular and soft-walled medical facilities that can accommodate up to 100 patients. Each unit is accompanied by a workforce housing facility for medical and support staff. When deployed, ATCO and Weatherhaven will also provide infrastructure support services to healthcare professionals onsite.
Image Above: A unit similar to those that will be provided by ATCO and Weatherhaven. Image source: Weatherhaven.
ATCO operating health screening checkpoint at Canada-US border
ATCO Frontec is also supporting Alberta's pandemic response efforts through a contract with the provincial government o provide a health screening checkpoint at the Alberta/Montana border.
In coordination with Alberta Health, Alberta Transportation and Alberta Sheriffs, ATCO Frontec will operate the COVID-19 screening checkpoint to the north of the Coutts Port of Entry. The company will provide the command and control organization, medical screeners and logistics services.
Non-commercial travellers will have their temperature taken, undergo a short visual health inspection, and be required to submit and confirm their mandatory 14-day isolation plans. Learn more here.
About ATCO Ltd
ATCO is a diversified global corporation with investments in the essential services of Structures & Logistics, Utilities, Retail Energy, Transportation, and Commercial Real Estate. Learn more at www.ATCO.com.
About Weatherhaven Global Resources Ltd.
Weatherhaven is a world leader in providing rapidly deployable and redeployable shelters and camp systems. Leverage our fast setup and takedown speeds for your military, medical or commercial needs. Learn more: https://www.weatherhaven.com.
Share Your Story!
Are you contributing to Canada's COVID-19 Emergency Response? Share your best stories and examples here: https://bit.ly/defenceindustrycovid19support.
Posted 2020-07-03
Last Modified 2020-07-06 15:30