CANSEC OVERVIEW
Welcome to Canada's Global Defence and
Security Trade Show
CANSEC has been held annually in Ottawa since 1998 by the Canadian Association of Defence and Security Industries (CADSI). CANSEC 2017 will once again showcase leading-edge technology, products and services for land-based, naval, aerospace and joint forces military units. This two-day event is the largest and most important defence industry event in Canada.
CADSI welcomes CAE as the Platinum Sponsor of CANSEC.
CANSEC 2017 will be held at the EY Centre, located at 4899 Uplands Drive in Ottawa, Ontario.
The EY Centre is conveniently located near the Ottawa Macdonald-Cartier International Airport and is just minutes from downtown Ottawa by car or public transit.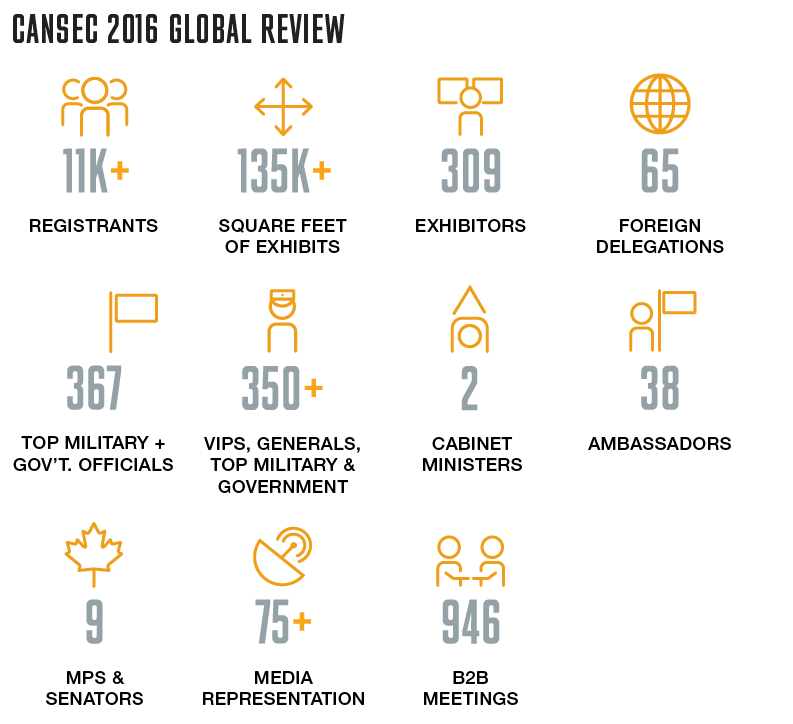 * Statistics based on 2016
As Canada celebrates it's 150 years, excessive city wide volume is expected during the spring of 2017, CADSI recommends you book your accommodations at your earliest convenience.
Note: Attendance at all CANSEC events, including the golf tournament, is restricted to CADSI members and government (federal, provincial, municipal, foreign) personnel only.