What's New
the association
Ministers of National Defence, Industry and Western Economic Diversification confirmed as keynote speakers for CANSEC 2015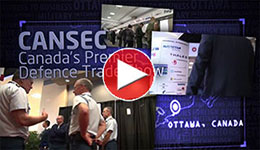 The Minister of National Defence, Industry and the Minister of Western Economic Diversification have been confirmed as keynote speakers for CANSEC 2015. The two-day trade show will be held on May 27-28, 2015, with the business development program extended to a third day, May 29th. CANSEC 2015 will also feature 53 new exhbit booths, bringing the total number of booths to 645. Read more >>
CADSI announces Annual General Meeting
The annual general meeting of members of the Canadian Association of Defence and Security Industries will be held in the Provinces Ballroom, 4th level, at The Westin Ottawa, on Tuesday, March 24, 2015 at 2 pm. DOWNLOAD the AGM notice.
Mark your calendars!!!
2015 calendar of events now available. Don't miss your opportunity to learn, grow your business and network at all our world-class events. DOWNLOAD the 2015 events calendar.
conference of defence associations institute
Report urges resolution to DND procurement delays
January 14, 2015 – Today, the CDA Institute published a paper titled Putting the 'Armed' Back into the Canadian Armed Forces: Improving Defence Procurement in Canada, authored by David Perry, the Institute's Senior Security and Defence Analyst. Mr. Perry's paper, based on substantial interviews and a workshop, analyzes the causes of some of the problems with Canada's defence procurement system. It suggests that the government's Defence Procurement Strategy, announced last February, is being implemented at the right pace and offers some promise for improving defence procurement governance and "joined-up" decision making among the involved departments. Read the full report: Putting the 'Armed' Back into the Canadian Armed Forces".
Latest Defence & Security News