Advocacy /
Member News
November 13, 2023
Thornhill Medical Ramps Up Production of MADM™, its Mobile Gas Anesthesia Technology built for extreme conditions
Toronto, ON, Nov.7, 2023: Thornhill Medical today announced that it is accelerating its manufacturing of its MADM™ mobile anesthesia delivery technology. As current and future global conflicts and humanitarian crises grow, military and humanitarian medical teams need lighter, compact, and more portable medical equipment that can withstand austere, extreme, and unpredictable deployment environments.
Approved by both FDA and Health Canada, MADM™ easily connects to any ventilator to safely and accurately enable gas anesthesia. The lightweight and compact design of MADM™ makes it ideal in more challenging environments such as field hospitals and forward-deployed surgical scenarios. MADM™ is quick to set up, easy to use, and has a small footprint – exactly what is required when time and space are at a premium, and mobility is required.
At just 7.1 lbs (excluding battery), MADM™ is about the size of a 2-slice toaster and can easily be hand-carried or attached to Thornhill Medical's MOVES® SLC™ integrated life-support system to quickly and efficiently stand up a forward surgical capability.
When MADM™ is paired with the circle-circuit ventilator and oxygen generator embedded in MOVES® SLC™, MADM™ can reuse gas anesthesia, providing an elegant means to decrease anesthesia consumption. This proprietary MOVES® SLC™ circle-circuit removes the need for large amounts of compressed oxygen that may not be available when facing the tyranny of distance or other logistics challenges.
"We know that surgical care in the far-forward setting needs solutions that promote agility, mobility and are self-sufficient while overcoming contested logistics and supply chain interruptions," says Lesley Gouldie, President and CEO of Thornhill Medical. "We are also experiencing an increased demand for our MOVES® SLC™ integrated life-support system which is why it is imperative that we are ready to support our combat and humanitarian partners to help save more lives with our companion MADM™ technology.
New White Paper Examines Role of MADM™ in Patient Care
Since its initial development with the US Marine Corps (USMC) as its Field Anesthesia System, MADM™ has been deployed in critical care scenarios, including in Ukraine. A new white paper details the experience of fielding MADM™ and MOVES® SLC™ in a recent humanitarian surgical mission.
Entitled "MADM™, Mobile Anesthesia Delivery Module, a solution to filling Capabilities Gaps", the paper explores how Thornhill Medical's MADM™ technology addresses current and future capability gaps and examines the benefits of safe and effective gas anesthesia delivery far-forward on the battlefield. The white paper also explores the role that next-generation portable anesthesia technology can play in supporting better patient outcomes and warfighter care.
Request a copy of the white paper here.
MOVES® SLC™ and MADM™ from Thornhill Medical are available to purchase on GSA Advantage, sold through ADS, Inc. in the US.
For more information, please contact: Kathleen Powderley,
[email protected]
, 416-803-5597.
About Thornhill Medical
A global innovator in respiratory and oxygen-related scientific research and advanced technologies, Thornhill Medical is transforming the delivery of critical care in austere and unpredictable combat casualty care and humanitarian environments. Its flagship micro-integrated life support system with built-in oxygen supply, MOVES® SLC™, and its companion anesthesia solution MADM™, are solving critical care capabilities gaps to save lives. Drawing on 20 years of pioneering scientific and engineering innovations that address the needs of health systems and providers, Thornhill Medical is unlocking tomorrow's medical technology solutions, today. The team is pushing the boundaries of what's technologically possible in interoperability, remote or autonomous delivery and the use of AI, and is developing solutions that can transform vascular diagnostics through arterial blood gas control. Thornhill Medical collaborates each day with customers, innovation leaders, industry, hospital, and military partners in more than 19 countries and in 65+ research institutes.
About CADSI
The Canadian Association of Defence and Security Industries (CADSI) is the national industry voice of more than 650 Canadian defence, security and cybersecurity companies that produce world-class goods, services and technologies made across Canada and sought the world over. The industries contribute to the employment of more than 78,000 Canadians and generate $12.6 billion in annual revenues, roughly half of which come from exports. To learn more, visit defenceandsecurity.ca and follow us on Twitter at @CadsiCanada .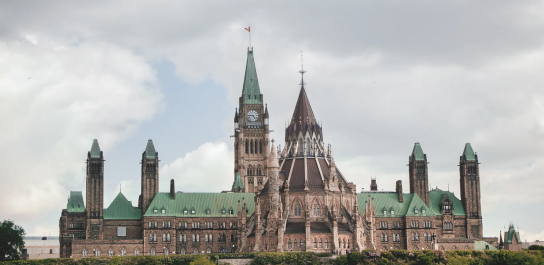 Media Inquiries
Please direct all media inquiries to:
Tel: +1 613-235-5337 x43
The Canadian Association of Defence and Security Industries
251 Laurier Ave. West, Suite 300 Ottawa, ON, K1P 5J6