Advocacy /
Member News
June 1, 2023
Seaspan Shipyards has cut steel on a 'Prototype block' setting a course for building the first Polar Icebreaker in Canada in more than 60 years
May 31, 2023 – North Vancouver, BC – Today, Seaspan Shipyards cut steel to build a 'Prototype Block' marking a critical step in Seaspan's Polar Icebreaker Program. Seaspan is designing and building the first heavy Polar Icebreaker in Canada in more than 60 years, harnessing strengths across its multidisciplinary shipbuilding team for the project that has been developed under Canada's National Shipbuilding Strategy (NSS).
Before full rate construction on the Polar Icebreaker begins, Seaspan is developing a Prototype Block to test the new systems, processes, people, and tools that are required to work with some of the very thick, specialized steel that is required to manufacture a heavy Polar Icebreaker. Some of this steel will be up to 60-millimeters thick, to enable the ship to safely navigate through the multi-year ice that is found in the Arctic. The lessons learned from building the Prototype Block will be used to help improve the quality and efficiency of the process for designing and manufacturing the vessel when production begins in late 2024.
"Cutting steel on the Prototype Block is a key milestone for the Polar Icebreaker Program and demonstrates Seaspan's capabilities across engineering, design, supply chain, planning and production. The prototype is just one example of the team's dedication to learning and continuous improvement, as we prepare to commence full rate construction," said Martin Edwards, Chief Program Officer at Seaspan Shipyards.
"The construction of the Prototype Block for the first Polar Icebreaker is an exciting milestone for us at the Canadian Coast Guard. Once completed, the Polar Icebreaker will be sailing in Arctic waters and establishing our sovereignty in the region while supporting critical work such as icebreaking operations, maritime emergencies, Arctic science research, and the safe delivery of goods and services to Northern communities. I am very excited to have arrived at this point and look forward to the start of full-rate production in the coming years," said Mario Pelletier, Commissioner of the Canadian Coast Guard.
Seaspan has already gained significant experience designing and building Polar Class vessels including three Offshore Fisheries Science Vessels which are now in service with the Canadian Coast Guard; an Offshore Oceanographic Science Vessel that is currently under construction at its Vancouver Shipyards location; and a class of sixteen Multi-Purpose Vessels (also Polar Class) that is currently in design.
The Polar Icebreaker will be an incredibly complex ship, designed to operate in the Arctic's ice-covered waters, and will play a critical role in enabling the Canadian Coast Guard to transit and protect more than 162,000 km of Arctic coastline. The capabilities of the Polar Icebreaker will help sustain a year-round presence in Canada's North in support of Indigenous Peoples and other northern communities, arctic sovereignty, high-Arctic science (including climate change research), and the ability to respond to major maritime emergencies including search and rescue.
With Canada's current largest Icebreaker, the CCGS Louis S. St-Laurent, set to retire at the end of the decade after 60 years of service, the new Polar Icebreaker will be one of the world's largest and most powerful conventional icebreakers. The ship will be the flagship vessel of the Canadian Coast Guard's icebreaking fleet, with a critical mission of protecting Canada's Arctic sovereignty.
QUICK FACTS ABOUT THE POLAR ICEBREAKER
With a displacement of 27,876 tonnes, the Polar Icebreaker will be 158 metres long and 28 metres wide, and able to accommodate up to 100 personnel. It will be able to operate farther north, in more difficult ice conditions and for longer periods than any icebreaker in Canada to date.
The primary missions of the Polar Icebreaker include protecting Canada's sovereignty, Arctic science, environmental response, Northern resupply, and search and rescue.
Highlights of key design features, include:

IACS Polar Class 2 (PC2) Heavy Icebreaker
More than 40MW of installed power
Ice-classed azimuthing propulsion system
Complex, multi-role mission capability
Scientific Laboratories
Moon Pool (to allow for safe deployment of equipment from within the ship)
Helicopter flight deck and Hangar
Vehicle Garage and future Remotely Piloted Aircraft System (RPAS) capability

Under the NSS, Seaspan has become a major economic and job creation engine. According to an economic analysis conducted by Deloitte, over the past decade through its NSS-related activities, Seaspan has contributed $2.6 billion to Canada's Gross Domestic Product with $2.1 billion in contracts to more than 700 Canadian suppliers.
SOCIAL MEDIA
Twitter: @Seaspan
LinkedIn: Seaspan ULC
Instagram: @SeaspanULC
Facebook: Seaspan
ABOUT SEASPAN
Seaspan, a division of Seaspan ULC, is a leader in Canada's ship design, engineering, building and ship repair industry. With modern facilities and a dedicated workforce of approximately 2,800 in North Vancouver and Victoria, the company has proven itself to be a trusted and strategic partner on a range of complex projects for both government and the private sector.
MEDIA CONTACT
Ali Hounsell, Director of Communications
[email protected]
604-612-5108
About CADSI
The Canadian Association of Defence and Security Industries (CADSI) is the national industry voice of more than 650 Canadian defence, security and cybersecurity companies that produce world-class goods, services and technologies made across Canada and sought the world over. The industries contribute to the employment of more than 78,000 Canadians and generate $12.6 billion in annual revenues, roughly half of which come from exports. To learn more, visit defenceandsecurity.ca and follow us on Twitter at @CadsiCanada .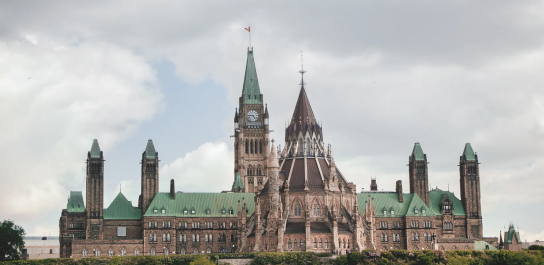 Media Inquiries
Please direct all media inquiries to:
Tel: +1 613-235-5337 x43
The Canadian Association of Defence and Security Industries
251 Laurier Ave. West, Suite 300 Ottawa, ON, K1P 5J6