Advocacy /
Member News
May 31, 2023
MDA AND THOTH TECHNOLOGY CREATE NEW CANADIAN SPACE DOMAIN AWARENESS CAPABILITY
Collaboration establishes Canada's first ground-based radar capable of monitoring Resident Space Objects in geosynchronous orbit
May 31, 2023 (Brampton, Ontario) - MDA Ltd. (TSX:MDA), a leading provider of advanced technology and services to the rapidly expanding global space industry, today announced it is working with Thoth Technology Inc. (Thoth) to create a made-in-Canada deep space radar surveillance and space domain awareness (SDA) capability. As part of a strategic cooperation agreement, MDA commercial data services will be integrated with Thoth's ground-based radar technology to provide unprecedented levels of sovereign monitoring in deep space over Canada, providing both detection and characterization of space objects.
Thoth uses a unique ground-based radar to characterize objects in geosynchronous orbit (GEO). This new radar technology, called Earthfence, detects and characterizes Resident Space Objects (RSOs) in GEO to provide situational awareness for a region 36,000 km away from Earth.
As part of the agreement, MDA will utilize its extensive experience to provide web-based data services through its industry leading observation web platform tool to evaluate and store data collected from Earthfence. MDA will also serve as the customer interface for all data requests.
"This collaboration is a natural fit for MDA, and we're excited to be part of bringing Thoth's unique deep space radar technology to build this space domain awareness capability in Canada," said Mike Greenley, CEO of MDA. "MDA currently operates the Department of National Defence Sapphire spacecraft, the only non-US space-based contributor to the US Space Surveillance Network, and with this agreement with Thoth, we are well positioned to continue to provide critical space domain awareness capabilities that are an essential part of space surveillance and space security."
Located in northern Ontario, Thoth's radar facility provides more accurate range and other characterization information than the current optical systems used for GEO. Combined with MDA's expertise, it will advance, develop and deliver transformative capabilities in deep space radar surveillance and SDA.
"In an increasingly congested and contested space environment, operators of complex satellites need to ensure that their technology is safe," said Dr. Caroline Roberts, Thoth Technology President and CEO. "Leveraging the innovative work of Dr. Brendan Quine, CEO of ThothX and an expert in radar technologies, our Earthfence technology provides unprecedented levels of space traffic awareness day or night and Thoth is the only commercial provider of this service. As a growing Canadian business, we are thrilled to have the support and data expertise of an established company like MDA."
ABOUT MDA
Serving the world from its Canadian home and global offices, MDA (TSX:MDA) is an international space mission partner and a robotics, satellite systems and geointelligence pioneer with a 50-year story of firsts on and above the Earth. With over 2,700 employees across Canada, the US and the UK, MDA is leading the charge towards viable Moon colonies, enhanced Earth observation, communication in a hyper-connected world, and more. With a track record of making space ambitions come true, MDA enables highly skilled people to continually push boundaries, tackle big challenges, and imagine solutions that inspire and endure to change the world for the better, on the ground and in the stars. Learn more by visiting mda.space.
ABOUT THOTH
Thoth Technology Inc. is a Canadian company based in Ontario, Canada, and operates a 46-meter Deep Space Radar located at the Algonquin Radio Observatory. Together with its U.S. affiliated company, ThothX LLC, Thoth delivers cutting-edge GEO space object range and characterization of data (SSA) to a range of less than 25 meters, and to an object range to 100,000 km, on a cost-effective basis providing extensive GEO coverage utilizing proven technology and terrestrial radar antennas. This system provides operational redundancy, increased object coverage, superior characterization information, cost savings, and non-classified data generation. ThothX also operates the radar antenna located in Carnarvon, Western Australia. Learn more by visiting www.thothx.com.
FORWARD-LOOKING STATEMENTS
This press release contains forward–looking information within the meaning of applicable securities legislation, which reflects the Company's current expectations regarding future events. Forward–looking information is based on a number of assumptions and is subject to a number of risks and uncertainties, many of which are beyond the Company's control, which could cause actual results and events to differ materially from those that are disclosed in or implied by such forward–looking information. Such risks and uncertainties include, but are not limited to, the factors discussed under "Risk Factors" in MDA's Annual Information Form available on SEDAR at www.sedar.com. MDA does not undertake any obligation to update such forward–looking information, whether as a result of new information, future events or otherwise, except as expressly required by applicable law.
MEDIA CONTACTS
Amy MacLeod
Vice President, Corporate Communications
613-796-6937
Media Director
Thoth Technologies, Inc.
INVESTOR CONTACT
Shereen Zahawi
Senior Director, Investor Relations
647-401-3230
SOCIAL MEDIA
Twitter: twitter.com/MDA_space
Facebook: facebook.com/MDAspace
LinkedIn: linkedin.com/company/mdaspace
YouTube: youtube.com/c/mdaspace
Instagram: instagram.com/MDA_space
About CADSI
The Canadian Association of Defence and Security Industries (CADSI) is the national industry voice of more than 650 Canadian defence, security and cybersecurity companies that produce world-class goods, services and technologies made across Canada and sought the world over. The industries contribute to the employment of more than 78,000 Canadians and generate $12.6 billion in annual revenues, roughly half of which come from exports. To learn more, visit defenceandsecurity.ca and follow us on Twitter at @CadsiCanada .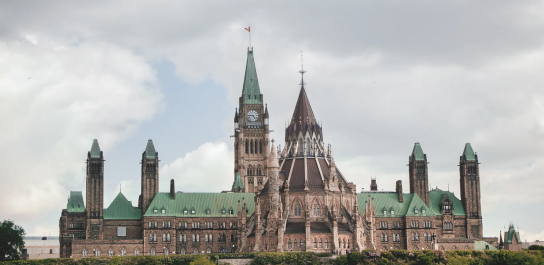 Media Inquiries
Please direct all media inquiries to:
Tel: +1 613-235-5337 x43
The Canadian Association of Defence and Security Industries
251 Laurier Ave. West, Suite 300 Ottawa, ON, K1P 5J6