Advocacy /
CADSI News
December 6, 2021
CADSI is hiring a Membership and Sales Specialist (New Position)
The Canadian Association of Defence and Security Industries (CADSI) is the national and international voice of Canada's defence, security, and cyber industries. We are looking for a high-performing individual to join our membership customer service team. This person would be responsible for delivering exceptional services to CADSI's world-class membership base, reporting to our Business Development and Operations leadership. They will play an important front-line role within CADSI, working directly with our members to deliver the highest level of support and assistance, building a sales funnel to attract and retain new members from across the defence, security and cyber sectors, and maintaining effective connections with potential and existing members via excellent communication skills. The successful candidate will demonstrate a passion for working with others, attention to detail, and a creative approach to problem-solving.
As part of joining this exciting team, this individual will also support a wide variety of association activities including the production of virtual and in-person professional development events, meetings, conferences, and Canada's largest defence and security tradeshow, CANSEC.
​
​
The ideal candidate will possess and demonstrate skill sets and abilities in the following areas:
Key Responsibilities:
Anticipates the needs of members and communicates with them in a timely fashion with tremendous attention to detail.

Oversees members' issues and utilizes problem-solving skills to troubleshoot quickly and effectively.

Develops and implements policies and procedures for the Membership Department in alignment with CADSI's objectives.

Develops annual sales strategy.

Maintains in-depth working knowledge of CADSI's systems and processes including the CRM.

Sets performance standards to meet CADSI's service goals.

Assessing and managing program performance by using key indicators, reporting and presentation of findings and suggestions to the Executive team.

Effective management of budgets and schedules is essential.

Monitors processes, events, and environments to detect or assess and fix or report problems.

Ability to capture large concepts and compile the information into step-by-step procedures.

Perform other related duties as assigned.
Why you are right for this job:
You possess superior interpersonal skills to handle sensitive and confidential situations- adjusting response styles to CADSI's diverse constituency.

You have the ability to prioritize multiple projects.

You have the ability to research, design and build a sales funnel.

You have experience selling to executive-level decision-makers.

You can assess each member's needs or concerns on an individual basis.

You are a creative and proactive problem solver, working within very short timelines.

You are comfortable and able to multi-task and meet various tight deadlines.

You are a motivated team player with demonstrated attention to detail and being able to work independently.

You demonstrate poise, tact, and diplomacy in all of your work.

You are known for your sense of humour, interpersonal skills, and positive outlook.
Requirements:
Bilingual essential (English/French)

Undergraduate degree or College diploma or relevant work experience (minimum 5 years) in client relations or Association Management.

Highly effective written, verbal and listening skills.

Excellent project management and organizational skills, with the ability to manage time, multiple priorities and multitask effectively.

Database management and analysis.

Knowledge and training in CRM tools is an asset.

Research and reporting skills.

Strong computer literacy and proficiency in Microsoft Word, Excel, PowerPoint and SharePoint would be considered an asset.
Other Characteristics:
Willingness to work flexible hours, including occasional weekends and evenings.

Occasional travel may be required.

Honest, trustworthy and utilizes good judgment.

Flexible, cooperative, and capable of working confidently in a team setting and comfortable working individually.
Working Conditions
Downtown climate-controlled office environment, flexible hours, remote/hybrid work is possible. Overtime may be required at times, as well as local travel.
To apply for this exciting leadership position, please submit your resume and related materials to: applications@defenceandsecurity.ca by January 7, 2022. Please state the name of the position in the subject line of your e-mail. We thank all applicants for their interest, however only those under consideration for the role will be contacted.
CADSI is committed to building diverse, equitable, inclusive, flexible and accessible working environments. CADSI welcomes those who would contribute to the further diversification of staff including, but not limited to, women, racialized persons, Indigenous peoples, persons with disabilities, and persons of any sexual orientation or gender identity to apply.
Salary
$63,000 - $68,000 a year - Full-time, Permanent. Commensurate with experience. Benefits are available.
About CADSI
The Canadian Association of Defence and Security Industries (CADSI) is the national industry voice of more than 900 Canadian defence and security companies that produce world-class goods, services and technologies made across Canada and sought the world over. The industries contribute to the employment of more than 60,000 Canadians and generate $10 billion in annual revenues, roughly 60 per cent of which come from exports. To learn more, visit defenceandsecurity.ca and follow us on Twitter at @CadsiCanada .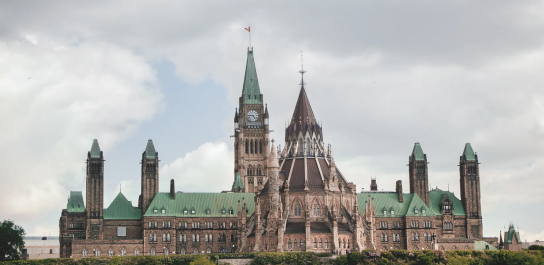 Media Inquiries
Please direct all media inquiries to:
Tel: +1 613-235-5337 x43
The Canadian Association of Defence and Security Industries
251 Laurier Ave. West, Suite 300 Ottawa, ON, K1P 5J6