Advocacy /
CADSI News
May 1, 2020
COVID-19 Membership Update - Embedded Contractors, Reopening the Economy, Commercial Rent Assistance
Dear Member,   
Please find below CADSI's latest update as we keep you informed of policy decisions and news affecting your business during the COVID-19 pandemic. 
Embedded Contractor Granted Temporary Access to Controlled Goods
This week, a CADSI member flagged an emerging problem facing embedded DND contractors who could not access DND Controlled Goods offsite. Thanks to the staff in DND's Directorate-General for International and Industry Programs (DGIIP), this issue was resolved within 72 hours.
They requested and received a waiver from the U.S., granting temporary remote access of Controlled Goods.  The policy guidance on this waiver was issued yesterday, April 29 (link: defenceandsecurity.ca/UserFiles/File/Policies/EmbeddedContractorsAccessToControlledGoods.pdf).
The policy is in effect until July 31, at which time DND will review the remote working posture and extend or cancel it.  At that time, companies will have to revert to the regular policy of accessing controlled goods at a DND facility under DND supervision. Please contact your Contract Authority for more information, if this issue affected you.
Governments Announce Plans to Reopen the Economy
On April 29, the Prime Minister and the Premiers announced a set of national guidelines that provide standards for provinces and territories when reopening their economies. The guidelines can be found here (link: pm.gc.ca/en/news/news-releases/2020/04/28/prime-minister-releases-joint-statement-first-ministers-restarting).
Several provinces rolled out their plans this week:
Saskatchewan has a

5-phase plan

to slowly lift restrictions on businesses and services beginning May 4, 2020. The province also released

guidelines for industries

to follow through the implementation of the 5-phase plan.

5-phase plan link: saskatchewan.ca/government/health-care-administration-and-provider-resources/treatment-procedures-and-guidelines/emerging-public-health-issues/2019-novel-coronavirus/re-open-saskatchewan-plan/phases-of-re-open-saskatchewan
Guidelines for industries link: saskatchewan.ca/government/health-care-administration-and-provider-resources/treatment-procedures-and-guidelines/emerging-public-health-issues/2019-novel-coronavirus/re-open-saskatchewan-plan/guidelines
Ontario released

A Framework for Reopening our Province

, which includes a phased approach to lifting restrictions, and published

guidelines for workplaces

.

Framework link: files.ontario.ca/mof-framework-for-reopening-our-province-en-2020-04-27.pdf
Workplace Guidelines link: news.ontario.ca/opo/en/2020/04/ontario-providing-employers-with-workplace-safety-guidelines.html?utm_source=ondemand&utm_medium=email&utm_campaign=p
Quebec also released their

plans

this week to gradually reopen sectors and businesses.

link: quebec.ca/en/health/health-issues/a-z/2019-coronavirus/gradual-resumption-activities-covid19-related-pause/#c57361
New Brunswick announced a

recovery plan

and easing of some health restrictions.
PEI announced that they will begin

removing some restrictions

on outdoor activities and some elective surgeries starting in early May.

link: princeedwardisland.ca/sites/default/files/publications/renewpeiweb.pdf
Other plans under development
British Columbia is expected to announce a move towards removing some restrictions in early May.
Alberta may begin a gradual reopening of the economy by mid-May.
Manitoba will start releasing its plans to reopen the province's non-essential businesses this week.
Newfoundland will discuss its reopening plan after reviewing the new COVID-19 projection models.
Yukon will announce their recovery plan in several weeks.
CADSI will continue to monitor the provincial plans and will update our COVID-19 resource page (link: defenceandsecurity.ca/media/article&id=381&t=c) as more plans are published.
Canada Emergency Commercial Rent Assistance
Last week the Prime Minister announced that the government has reached an agreement with all provinces and territories to implement the Canada Emergency Commercial Rent Assistance (CECRA). It is expected that the CECRA will be operational by mid-May. The details are as follows:
The loans will be forgiven if the mortgaged property owner agrees to reduce the eligible small business tenants' rent by at least 75 per cent for three corresponding months.
Impacted small business tenants are businesses paying less than $50,000 per month in rent and who have temporarily ceased operations or have experienced at least a 70 per cent drop in pre-COVID-19 revenues.
Learn more about the Canada Emergency Commercial Rent Assistance program

here

. (Link: pm.gc.ca/en/news/news-releases/2020/04/24/prime-minister-announces-partnerships-provinces-and-territories)
Several organizations have provided feedback regarding the CECRA, citing it appears to target only retailers and restaurants that have been completely shut down. CADSI is working with other associations to provide feedback to the government. If you have any suggestions about how the CECRA can be adjusted to address your needs, please contact Mindy Pearce, mindy@defenceandsecurity.ca.
CADSI is committed to keeping you informed. If you need more information on a topic that hasn't been covered in our updates or if CADSI can assist you in any way, please email Mindy Pearce at mindy@defenceandsecurity.ca. 
About CADSI
The Canadian Association of Defence and Security Industries (CADSI) is the national industry voice of more than 900 Canadian defence and security companies that produce world-class goods, services and technologies made across Canada and sought the world over. The industries contribute to the employment of more than 60,000 Canadians and generate $10 billion in annual revenues, roughly 60 per cent of which come from exports. To learn more, visit www.defenceandsecurity.ca and follow us on Twitter at @CadsiCanada .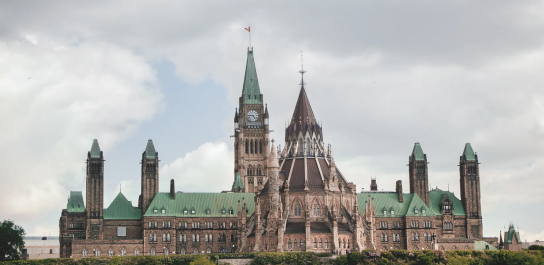 Media Inquiries
Please direct all media inquiries to:
Tel: +1 613-235-5337 x43
The Canadian Association of Defence and Security Industries
251 Laurier Ave. West, Suite 300 Ottawa, ON, K1P 5J6