Advocacy /
CADSI News
April 3, 2020
COVID-19 Membership Update – CADSI Secures Clear Federal Guidance on Essential Services that Recognize Defence and Security
April 2, 2020
Dear Member,
Please find below CADSI's latest update as we keep you informed of policy decisions affecting your business during the COVID-19 pandemic.
1. CADSI Secures Clear Federal Guidance on Essential Services and Functions in Canada that Recognizes Defence and Security
Further to CADSI's strong calls, the Government of Canada today issued guidance to provinces and territories that clearly mention defence and security in its definition of essential services and functions. The list, at CADSI's request, was created so that it is aligned and consistent with the U.S. Department of Homeland Security Guidance on the Essential Critical Infrastructure Workforce (link: cisa.gov/news/2020/03/19/cisa-releases-guidance-essential-critical-infrastructure-workers-during-covid-19), which was issued on March 19, 2020. This approach is a welcome effort by our government partners to ensure the continued functioning of the integrated Canadian and U.S. economies.
Under the Canadian federal guidance, the private sector is to self-identify as essential to preserving life, health and basic societal functioning. These essential services and functions are advisory in nature and do not constitute a federal directive or standard. The guidance defines "critical infrastructure as the processes, systems, facilities, technologies, networks, assets, and services essential to the health, safety, security or economic well-being of Canadians and the effective functioning of government."
It is imperative that employers of workers on this list "take all possible steps to protect their health and safety by implementing practices and procedures recommended by public health authorities and providing appropriate protective equipment and products. Further, workers who can perform their tasks remotely should do so."
The complete Guidance on Essential Services and Functions can be found here: (Link: publicsafety.gc.ca/cnt/ntnl-scrt/crtcl-nfrstrctr/esf-sfe-en.aspx)
In the meantime, if your company is unable to work because of provincial public health rules, please contact your PSPC Contracting Officer as soon as possible to discuss the impacts and options available to you. Also, please let CADSI know that you are facing workplace restrictions so we can help connect you with other officials that could resolve these challenges. Also, check regularly with BuyandSell.gc.ca as notices are posted and updated regularly. For example, on Friday, March 27, 2020, Public Services and Procurement Canada (PSPC) posted this notice: Information for Contractors on Workplace Closures Link: buyandsell.gc.ca/information-for-contractors-on-workplace-closures.
---
2. More Assistance for Canadian Businesses
The federal government has announced additional measures to assist Canadian businesses. A helpful summary of all new government business support measure can be downloaded here (Link: online.flippingbook.com/view/712672/)
Since we last updated you, new measures include:
On April 1, 2020, the government announced more details about the previously announced 75% wage subsidy for companies that have experienced a 30% drop in revenue between eligibility periods. Please see the news release and backgrounder for more information:
Several programs were announced on Friday, March 27, which are described in more detail in a Backgrounder (Link: canada.ca/en/department-finance/news/2020/03/additional-support-for-canadian-businesses-from-the-economic-impact-of-covid-19.html). To summarize, the programs or changes include:

CRA/CBSA payments deferred until June 30, 2020. This includes GST/HST payments as well as customs duties owing on imports
Canada Emergency Business Account enables financial institutions to provide interest-free lines of credit of up to $40,000 to businesses with payrolls of less than $1 million. Up to $10,000 of the loan is eligible for complete forgiveness. Speak to your financial institution for more details.
CRA is also introducing new administrative measures to reduce the burden on businesses facing financial hardship such as accepting electronic signatures on authorization forms and CRA will not contact SMEs for four weeks to initiate any audits.
New funding programs are being rolled out through EDC and BDC to help SMEs. CADSI has secured a commitment that defence companies and their activities are eligible for BDC services and clarification on EDC will be announced soon.
If you are having trouble accessing these programs, please let Mindy Pearce know at [email protected] so CADSI can resolve these issues.
---
3. Government of British Columbia released its list of essential services
On March 27, British Columbia announced the use of a series of extraordinary powers under the Emergency Program Act to keep communities safe, goods moving and to support essential service workers.
The formal announcement and full list of essential services can be found here (Link: news.gov.bc.ca/releases/2020PSSG0020-000568)
The following activities are a subset of the exempt commercial activities allowable in British Columbia:
Law enforcement, public safety, first responders, emergency response personnel

businesses that provide support to police and correctional services;
operations and services in support of the Canadian Armed Forces and Canadian Border Services Agency;

Critical infrastructure service providers

manufacturing of goods necessary for the continued and immediate operation of other essential infrastructure and businesses;

Transportation, infrastructure and manufacturing

employees who repair, maintain and overhaul vehicles, aircraft and parts, rail equipment, marine vessels, and the equipment and infrastructure that enables operations that encompass movement of cargo and passengers, as well as vehicle rentals and leasing;

Communications, information sharing and information technology (IT)
Non-health essential service providers including:

research services supporting essential sectors, including medical/clinical research and industrial research.
CADSI is committed to keeping you informed. If you need more information on a topic that hasn't been covered in our updates or if CADSI can assist you in any way, please email Mindy Pearce at [email protected].
About CADSI
The Canadian Association of Defence and Security Industries (CADSI) is the national industry voice of more than 650 Canadian defence, security and cybersecurity companies that produce world-class goods, services and technologies made across Canada and sought the world over. The industries contribute to the employment of more than 78,000 Canadians and generate $12.6 billion in annual revenues, roughly half of which come from exports. To learn more, visit defenceandsecurity.ca and follow us on Twitter at @CadsiCanada .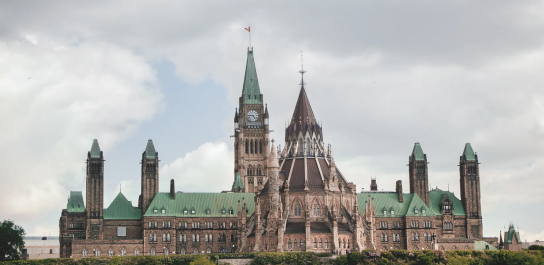 Media Inquiries
Please direct all media inquiries to:
Tel: +1 613-235-5337 x43
The Canadian Association of Defence and Security Industries
251 Laurier Ave. West, Suite 300 Ottawa, ON, K1P 5J6