Advocacy /
CADSI News
March 27, 2020
COVID-19 Membership Update – PSPC Supplier Update, PSPC Procurement Extensions, Improving your Cyber Security
Dear Member,
Please find below CADSI's latest update as we keep you informed of policy decisions affecting your business during the COVID-19 pandemic.
1. UPDATE: PSPC's Calling All Suppliers
Yesterday, CADSI President Christyn Cianfarani spoke with Minister of Public Services and Procurement Canada, Anita Anand, about the essential role the defence sector plays in Canada's national defence and security and how we can help respond to COVID-19. The Minister recognized and appreciated the industry's reputation for high-quality workmanship and the world-class goods and services it delivers. The Minister also asked that we collect a list of companies who can start producing Personal Protective Equipment (PPE) within 48 hours to send to her.
The PPE needed first is listed on PSPC's urgent Call for Suppliers found on BuyandSell. (Link: buyandsell.gc.ca/forms/help-canada-combat-covid-19-submission-form).
The government has posted the specifications for masks and gowns so companies don't have to submit a question and wait for a response (Link: buyandsell.gc.ca/specifications-for-COVID-19-products#200)
If you can convert your production facilities to make the required masks, gloves and gowns, please email Mindy Pearce at mindy@defenceandsecurity.ca as she will collect the information required to add you to the list CADSI will submit to the Minister and her department.
You should also continue to use the previously established channels to advance your offers and ideas:
---
2. Government Procurement Update
Bid Deadline Extensions
The Government of Canada is granting extensions to active bid solicitations. Please see below or contact your Contract Authority for more information:
The government is also extending several deadlines for a minimum period of two weeks from the current closing date for active bid solicitations that are currently set to close on or before March 31, 2020. Amendments will be posted shortly. To stay up to date on the latest status of active procurements, please consult Buyandsell.gc.ca.
New Bid Submission Procedures
PSPC has changed bid receiving operations. Further details can be found in the following advisory notice on the PSPC service continuity page (Link: tpsgc-pwgsc.gc.ca/comm/vedette-features/2020-03-16-01-eng.html). Where possible, suppliers are strongly encouraged to submit their bids electronically using Fax or by epost Connect online service (Link: canadapost.ca/cpc/en/business/postal-services/digital-mail/epost-connect.page) provided by Canada Post Corporation if available (indicated in the Bidder Instructions of the solicitation document).
For assistance with this service, please refer to the help document on ePost Connect guide (Link: buyandsell.gc.ca/steps-to-follow-for-the-bid-submission-to-bid-receiving-unit-bru-using-epost-connect) or email the National Capital Region Bid Receiving Unit at: TPSGC.DGAreceptiondessoumissions-ABBidReceiving.PWGSC@tpsgc-pwgsc.gc.ca
Extension to Bid Validity Periods
PSPC will deem numerous bids that would otherwise expire on or before March 31, 2020 as extended for a minimum of one (1) month from the current bid validity date. However, if Canada proposes to award a contract or other instrument to a bidder who did not wish for its bid validity to be extended, then Canada will permit it to withdraw its bid.
Should you have questions relating to a specific Tender Notice, we encourage you to contact the Contract Authority listed in the Tender Notice under Contact Information.
---
3. Increased Cyber Threats to Canadian Organizations
The Canadian Center for Cyber Security posted an alert on how the COVID-19 pandemic presents an elevated cyber security risk to Canadian organizations involved in the national pandemic response. The guidance also applies to defence and security companies, particularly those with employees working remotely.
The cyber centre recommends that organizations remain vigilant and take the time to ensure they are engaged in cybersecurity best practices, including increased monitoring of network logs, reminding employees to practice phishing awareness – and ensuring that servers, critical systems and personal computing devices used for remote work are patched for all known security vulnerabilities. Other cyber hygiene best practices recommended in the alert (Link: cyber.gc.ca/en/alerts/cyber-threats-canadian-health-organizations) include:
Staying aware of ongoing phishing activities
Monitoring logs for malicious activity
Implementing the Top 10 IT Security Actions
Reviewing ransomware advice
Reviewing recent alerts and advisories published by the Cyber Centre
If you have any questions about cyber security, please email Marc Watters marc@defenceandsecurity.ca.
CADSI is committed to keeping you informed. If you need more information on a topic that hasn't been covered in our updates or if CADSI can assist you in any way, please email Mindy Pearce at mindy@defenceandsecurity.ca.
About CADSI
The Canadian Association of Defence and Security Industries (CADSI) is the national industry voice of more than 900 Canadian defence and security companies that produce world-class goods, services and technologies made across Canada and sought the world over. The industries contribute to the employment of more than 60,000 Canadians and generate $10 billion in annual revenues, roughly 60 per cent of which come from exports. To learn more, visit www.defenceandsecurity.ca and follow us on Twitter at @CadsiCanada .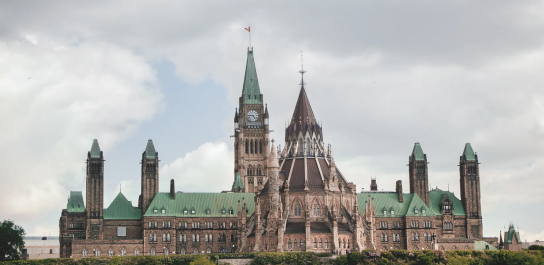 Media Inquiries
Please direct all media inquiries to:
Tel: +1 613-235-5337 x43
The Canadian Association of Defence and Security Industries
251 Laurier Ave. West, Suite 300 Ottawa, ON, K1P 5J6