Event Details
Strengthening of Canada's Export Controls Regime: Consulting with Canadians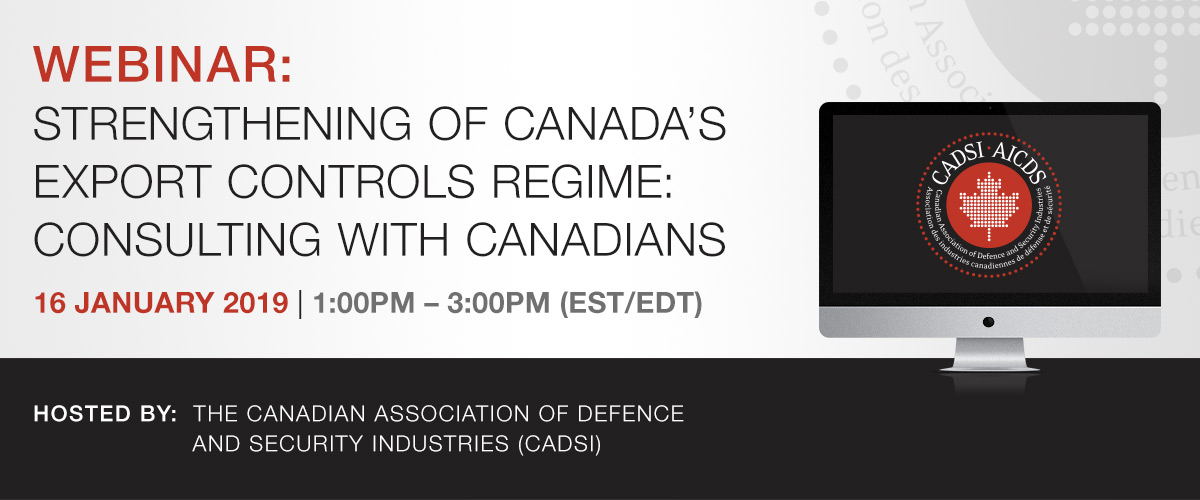 The Government of Canada is committed to promoting peace and security here at home and around the world. As part of Canada's support for a stronger and more rigorous export control system, the Government has committed to joining the Arms Trade Treaty (ATT).
On April 13, 2017, the Minister of Foreign Affairs introduced Bill C-47, An Act to amend the Export and Import Permits Act and the Criminal Code (amendments permitting the accession to the Arms Trade Treaty and other amendments).Bill C-47, which was passed by the Senate on December 6, 2018 makes the legislative amendments required by the ATT to regulate brokering activities and create a requirement to take into account criteria identified in the ATT before authorizing the export of arms, ammunition, or implements or munitions of war.
The ATT explicitly recognizes "the legitimate trade and lawful ownership and use of certain conventional arms for recreational, cultural, historical and sporting activities, where such trade, ownership and use are permitted or protected by law." Bill C-47, correspondingly, does not affect domestic gun control regulation.
In preparation for the entry into force of Bill C-47, Global Affairs Canada (GAC) is launching a public consultation on proposed changes to Canada's export controls regime.
Your feedback is very important as the outcome of this consultation will help shape Canada's export controls policies, procedures and regulations.
To support the consultation process GAC will deliver a webinar to CADSI members where the consultation process and engagement mechanisms will be explained in greater detail, and where CADSI members can voice questions to GAC officials in advance of the deadline for the online questionnaire component of the consultation process, which closes on January 31st, 2019.
Speakers:
Jocelyn Kinnear, Director Export Controls Policy Division, GAC
Supporting GAC staff will also be in attendance to respond to industry questions
Date: 16 January 2019
Time: 1:00pm – 3:00pm (EST/EDT)
Cost: Free for CADSI members
Note: Space is limited to 100 participants. Information on how to connect to the webinar
will be emailed to registrants before the event.
Target Audience: Defence industry compliance and export control specialists
For questions regarding registration, please contact Marc Watters, Policy Advisor at Marc@defenceandsecurity.ca.
On-site attendance is not available for this event. The event is closed to the media.