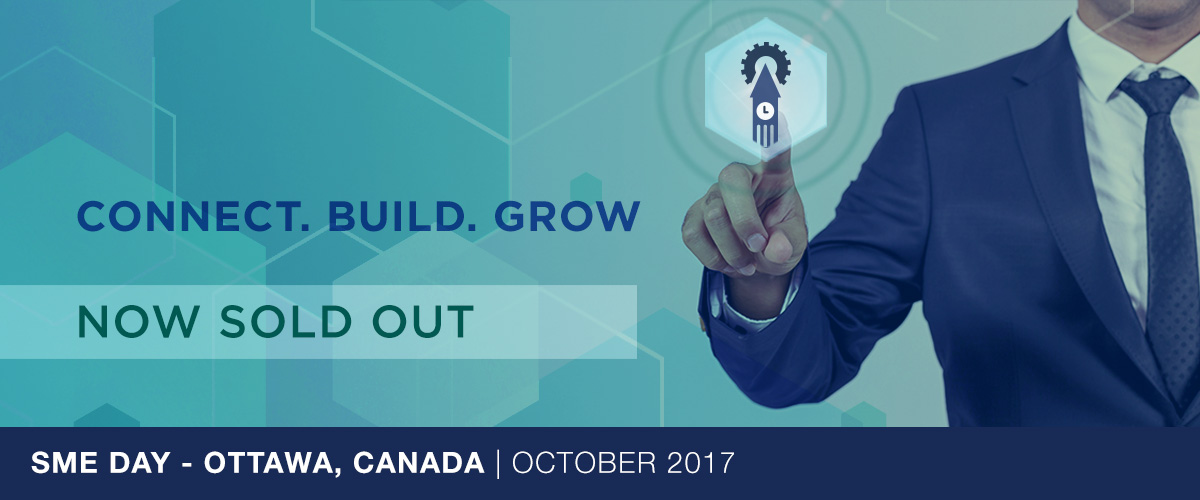 Event Description

THIS EVENT IS NOW SOLD OUT!

SME Day Ottawa has a long standing history of educating members and bridging the gap between OEMs, governments and Canadian SMEs. The day starts with an insightful morning program geared to informing members of the current programs and best practices for their success, followed by a full afternoon of targeted 15-minute business development meetings.

Here's how the business development meetings work:
Each registrant is given access to an on-line schedule to pre-book meetings with business managers from organizations such as Industry Canada, Regional Development Agencies and various OEMs. In the afternoon, approved industry buyers have a designated table where registrants will join them for a 15-minute appointment. This is a premier opportunity to meet with industry buyers, introduce your products and services and develop new contacts.

Registrants have been sent an email with all the information on how to book meetings. All meetings are booked on-line in real time—no one can take your appointment once it's booked! It is first-come-first-serve and early registration will have the best selection for their meetings.

SME DAY Ottawa 2017 AGENDA**:

7:30 - 8:30: Registration & Continental Breakfast (North Lobby)
8:30 - 8:40: Welcoming & Opening Remarks (Rm 205/207)
8:40 - 9:25: Session 1: "How To Become a Defence Industry Supplier"
9:30 - 10:10: Session 2: "SME Success Stories"
10:10 - 10:40: Networking Refreshment Break (North Lobby)
10:40 - 11:10: Session 3: "Build in Canada Innovation Program" (Rm 205/207)
11:15 - 11:50 Session 4: "NEW Innovation-Based Funding Programs - DND IDEaS Program"
11:50 - 13:15: Networking Reception & Buffet Lunch (North Lobby/Rm 205/207)
13:15 - 17:00: B2B/B2G Speed Meetings (Rm 206/208)
14:30 - 17:00: Refreshment Service (North Lobby)

**Agenda is subject to modifications

***************************************************************************************************************************
SME DAY Ottawa SPONSORSHIP PACKAGES ARE NOW AVAILABLE! If your organization is looking for elevate its presence in the defence marketplace, targeting a rich and specific audience, please peruse through our Sponsorship Packages (download PDF located to the right) and act fast - contact Lesley Jane Musker at lesley@defenceandsecurity.ca

****************************************************************************************************************************
For your convenience, click on the link below to access the Industry Canada website which details the portfolio of OEM offset obligations.
This report reflects progress to date as of January 19, 2017, and is updated annually.
Under the Industrial and Regional Benefits (IRB) Policy and the Industrial and Technological Benefits (ITB) Policy, defence contractors are contractually required to undertake business activity and investment in Canada in an amount that generally equals the value of their defence contracts. Significant investment in Canada has been made to date as a result of these policies.
Progress in fulfilling obligations is generally commensurate with the pace of the work underway to deliver the goods and services being procured. Innovation, Science and Economic Development Canada receives contractor reports on an annual basis and, following verification, credits company investments within a six month period.
http://www.ic.gc.ca/eic/site/086.nsf/fra/h_00019.html

**************************************************************************************************************************
UPDATED!
Government and OEM Representatives who have confirmed their attendance as B2B/G Table Hosts are:
ACOA - Atlantic Canada Opportunities Agency

Airbus
Alion Science & Technology
Babcock Canada
Boeing

Build in Canada Innovation Program (BCIP)

CADSI

CAE
CanExport/Global Affairs Canada

Canadian Commercial Corporation

Cougar Helicopters Inc.

DEW Engineering & Development

DND IDEaS Program

Canada Economic Development for Quebec Regions (CED-Q)

Federal Economic Development Agency for Southern Ontario
Gastops Ltd.

General Dynamics Land Systems - Canada

General Dynamics Mission Systems - Canada

IMP Aerospace & Defence

ITBB - Air

ITBB - Land
ITBB - Marine
ITBB - Air 2
L3 MAS
Leonardo DRS
NRC - IRAP Concierge Program
NRC - Security Materials Technologies Program
Oshkosh Defense

Raytheon International Inc.

Seaspan Shipyards

Thales Canada
ViaSat Inc
.... more to follow!



Are you an OEM who has current and future procurement requirements and are looking to meeting SMEs that can supply products and services that will support your projects?
ONLY 2 SPOTS LEFT!

CADSI is currently accepting OEM's who wish to host a table to meet Canadian defence and security SMEs. OEM hosts receive one complimentary registration, and a second reduced registration of $75.00 to attend SME Day 2017 which includes full day of activites and lunch. Please contact Lesley Musker at lesley@defenceandsecurity.ca or 613-235-5337 ext 33 to reserve your spot.
Event Details
Please contact Laura at 613-235-5337 x 42 for more information
Print page
Share
Event fees
THIS EVENT IS NOW SOLD OUT!

CADSI Member $175.00
Government $150.00
Government Contractors $150.00

Non-Members $275.00
Location
Shaw Centre, 55 Colonel By Drive (Gatineau Salon, Level 2)
Ottawa,
Why attend?
Your small- to medium-sized enterprise (SME) is trying to navigate the maze of the defence and security procurement process in Canada.

You want to know more about the programs available to assist Canadian SME's in their business development goals.

You are looking to connect with Canadian government and OEM's to introduce your products and services in a one-on-one meetings.