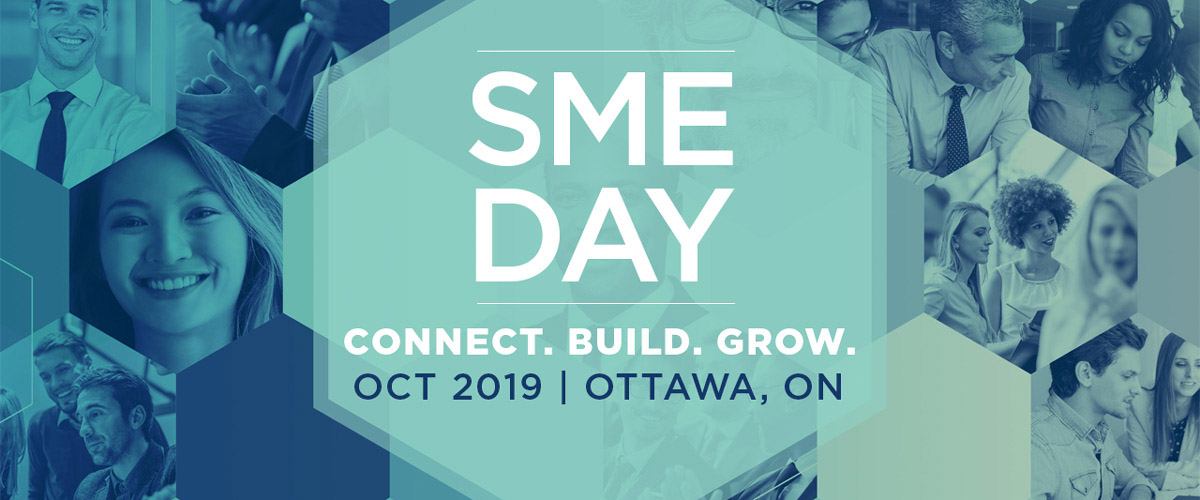 Event Description
SME Day Ottawa has a long standing history of educating members and bridging the gap between OEMs, governments and Canadian SMEs. The day starts with an insightful morning program geared to informing members of the current programs and best practices for their success, followed by a full afternoon of targeted 15-minute B2B/G meetings, entitled "Supply Chain Connect."

Here's how the business development meetings work:
Each registrant is given access to an online schedule to pre-book meetings with business managers from OEM organizations and federal/provincial government departments and programs. In the afternoon, approved industry buyers and government organizations have a designated table where registrants will join them for a 15-minute appointment. This is a premier opportunity to meet with industry buyers, introduce your products and services and develop new contacts.

Registrants will be sent an e-mail with the information on how to book meetings. All meetings are booked on-line in real time. It is first-come-first-serve and early registration will have the best selection for their meetings.

The "SUPPLY CHAIN CONNECT B2B/G Tool" will be open in mid-September.

**********************************************************************************************

Are you an OEM who has current and future procurement requirements and are looking to meeting SMEs that can supply products and services that will support your projects?

CADSI is currently accepting OEM's who wish to host a table to meet Canadian defence and security SMEs. OEM hosts receive one complimentary registration. Should a second person wish to accompany the Table Host Lead, CADSI is offerings a reduced registration fee to attend. Please contact Lesley Jane Musker at lesley@defenceandsecurity.ca or 613-235-5337 ext 33 to reserve your spot.
Event Details
** This event is sold out! Please email: melanie@defenceandsecurity.ca to be placed on our waiting list **
Print page
Share
Location
Shaw Centre (Trillium Ballroom, Level 4)
Ottawa
Why attend?
Your small- to medium-sized enterprise (SME) is trying to navigate the maze of the defence and security procurement process in Canada.

You want to know more about the programs available to assist Canadian SME's in their business development goals.

You are looking to connect with Canadian government and OEM's to introduce your products and services in a one-on-one meetings.