Event Details
CADSI WEBINAR: US Department of Defense Budget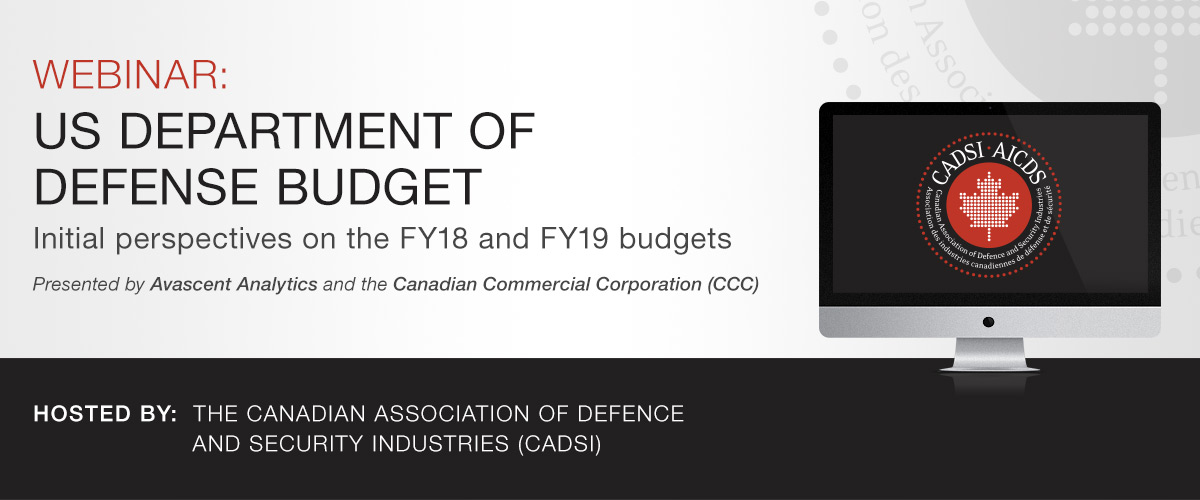 Presented by Avascent Analytics and the Canadian Commercial Corporation (CCC), the US Department of Defense (DOD) FY19 Budget Webinar will offer unparalleled insight into the US DOD budget by program and service, provide intelligence on DOD plans and priorities that will impact Canada, and help you gain insights into the changing opportunity space in Canada's largest defence export market.
Join Michael Petric and Matthew Vallone from Avascent Analytics and MGen (ret'd) Dave Wheeler from the Canadian Commercial Corporation on March 1st, 2018 to learn what the US DOD budget release means for Canada.
Avascent operates at the intersection of Industry and Government in complex markets. With expertise in commercial aerospace, defence, public transit, healthcare, cyber and information technology, Avascent provides senior leaders with highly defensible, rigorous and evidence-based research and analysis.
Speakers:
Michael Petric, Head of Avascent Analytic's Ottawa Office
Matthew Vallone, Director of Research and Analysis for Avascent Analytics
MGen (ret'd) Dave Wheeler, Canadian Commercial Corporation (CCC)
Date: March 1st, 2018
Time: 11:00 a.m. - 12:00 p.m. EST/EDT
Cost: Registration is free for CADSI members and Government of Canada employees.
Note: Space is limited to 100 participants. Information on how to connect to the browser-based webinar will be emailed to registrants before the event.
For questions regarding registration, please contact Marc Watters, Policy Coordinator at 613-235-5337 ext. 29 or e-mail at Marc@defenceandsecurity.ca
On-site attendance is not available for this event.