Event Details
Cyber Security Consultation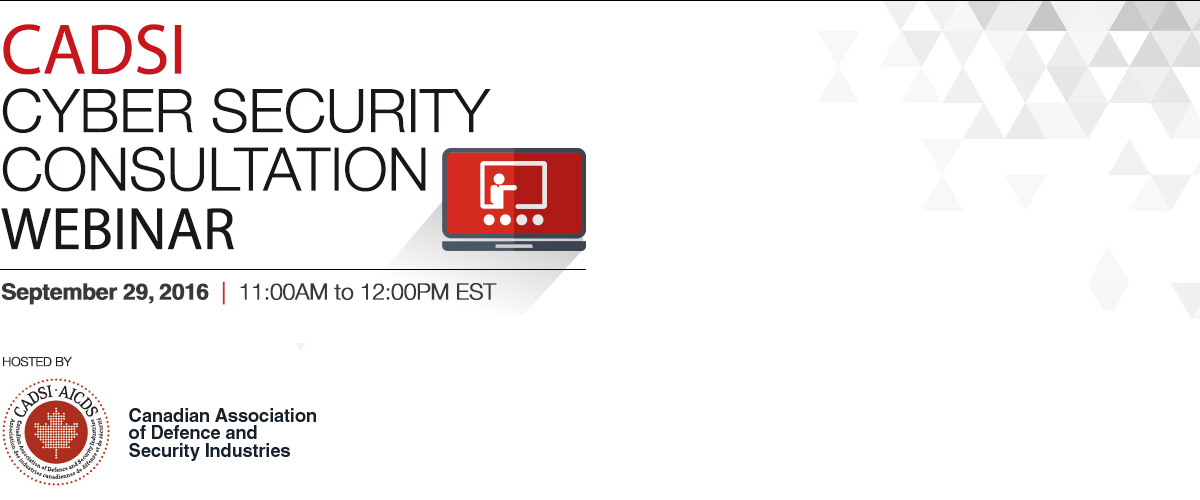 This past summer, the Government of Canada, led by the Department of Public Safety launched their consultation for the Cyber Security Review. The initiative will focus on "the trends and challenges of cyber security, as well as on new initiatives under consideration which will strive to build Canada's resilience, capability and innovation in cyber security". The review also involves collaboration between the Departments of National Defence, Infrastructure and Communities, Public Services and Procurement, Innovation, Science and Economic Development, and the President of the Treasury Board.
The goal of the consultation is to engage with Canadians on the evolving cyber security landscape to identify gaps and opportunities, as well as bring forward new ideas to shape Canada's approach to cyber security. You are invited to participate in a CADSI webinar to learn about the review and to provide your input on the theme of Protecting Critical Infrastructure.
CADSI has identified two key questions for discussion:
What are the barriers to strengthening cyber systems in critical infrastructure (within and across sectors)?
What is needed to improve Canadian innovation in cyber security?
Additional questions will be taken. Questions can be submitted in advance or during the webinar at questions@defenceandsecurity.ca.
Speakers:
Mark Matz, Director, Policy and Issues Management, National Cyber Security Directorate, Public Safety Canada
Date: 29 September 2016
Time: 11:00am – 12:00pm (EST/EDT)
Cost: Free for CADSI members
Space at the webinar is limited to 100 CADSI members who register. A URL to view the web browser-based webinar will be emailed to registrants.
For questions regarding registration, please contact Teshini Harrison, Policy Coordinator at 613-235-5337 ext. 40 or e-mail at Teshini@defenceandsecurity.ca
*Note: On-site attendance is not available for this event.