Event Details
DSEI 2017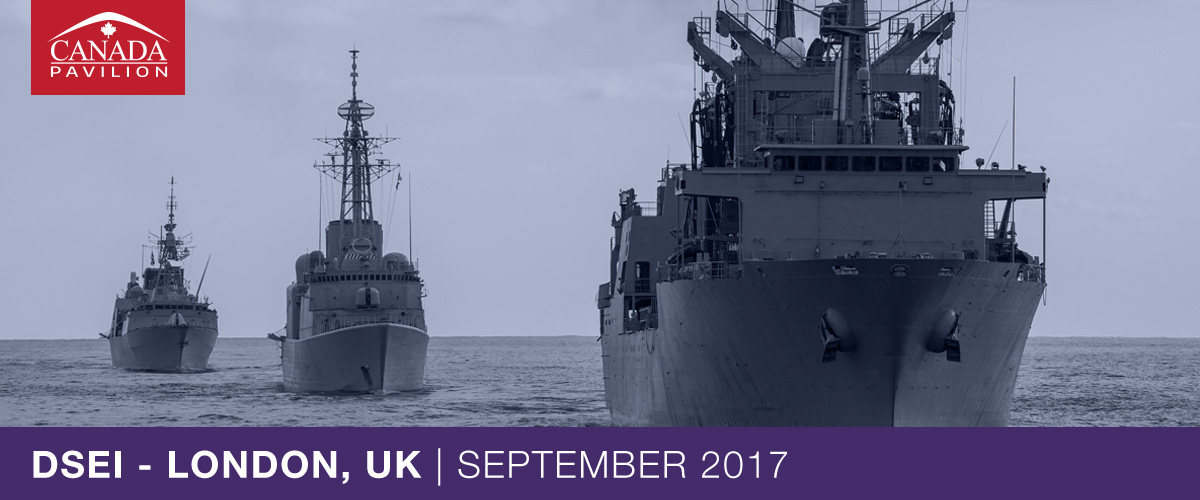 PARTICIPATE IN THE CANADIAN PAVILION AT DSEI 2017
DSEI is the world's leading defence and security exhibition, drawing the largest international community from the defence and security sectors. In 2015 over 34,000 visitors, 329 programmed delegations from 120 countries and over 2,800 global VIPs met with 1,683 exhibitors from 54 countries.
DSEI is the place to do business in the global defence and security market. 93% of 2015 exhibitors said the event is very important for the industry and 82% rated DSEI excellent or good.
DSEI 2015 at a glance
1,683 international exhibitors – an unrivalled range of suppliers from 121 countries
Specialised air, naval, land, security, medical and unmanned zones
6 dedicated seminar theatres offering free educational sessions and showcases
Over 42 international pavilions – including Germany, India, Australia, UK, USA, Turkey
Expanded live waterborne and unmanned systems demonstrations
Static vehicle displays for land, air and naval sectors
International visiting naval ships available to tour
Networking opportunities - featuring the defence and security supply chain
DSEI attracts top level international military staff, major procurement officials, and the entire industry supply chain, from large prime contractors to supplying companies. DSEI brings together the entire supply chain together on an unrivalled scale.
Canada Pavilion - Added Value Program

Business Development Activities
Access to domestic and foreign delegations visiting the Canadian Pavilion
Access to Canada meeting Suites
Access to Canada Lounge Spaces
Invitation to the Canada Pavilion reception
Invitation to the Canada Pavilion seminar
Access to the Whole of Government Group within the Canada Pavilion
Foreign Pavilion Tours (UK, US, Brazil etc...)

Canada Pavilion Amenities and Services
Prime exhibit location
Access to the Canadian Pavilion meeting rooms
Canada Pavilion reception desk
Government of Canada Booth
Whole of Government Working Group and Canada Stage

B2B-B2G Program
Create your own B2B/B2G meeting agenda through the DSEI platform

Branding
Canadian Pavilion show guide
Canadian Pavilion branding/Banners
DSEI Entrance Sponsorship
Daily Ads in the Show Daily
Book your exhibit space now:
Exhibit space in the Canadian Pavilion is still available, now is the time to make your market at DSEI 2017. To purchase exhibit space in the Canada Pavilion, please contact Doug Schlam from Clarion Events at: Office: +1 718-474-3817 – Mobile: +1-203-550-5288 (Doug.Schlam@clarionevents.com)
Walker program
It is also possible for company representatives to walk the show floor and take part in the CADSI value added program. For a reasonable fee of $950 (Cdn) + HST, walkers will also take advantage of the Canada Pavilion value added program, providing them access to the meeting rooms, participation in the reception, seminars, delegation visits and the Canada lounge area. To register as a walker at DSEI 2017, please contact Amanda Molloy at CADSI: 1-613-235-5337 X 38 Amanda@defenceandsecurity.ca.
CanExport – Direct Financial Support Program
On January 5th 2016, the Government of Canada announced a new program to increase the competitiveness of the Canadian companies internationally. CANEXPORT is destined to provide direct financial support to small and medium size companies in Canada seeking to develop new export markets. For more information on the CANEXPORT program and to apply, please follow the link below: