Event Details
Sea Air Space 2016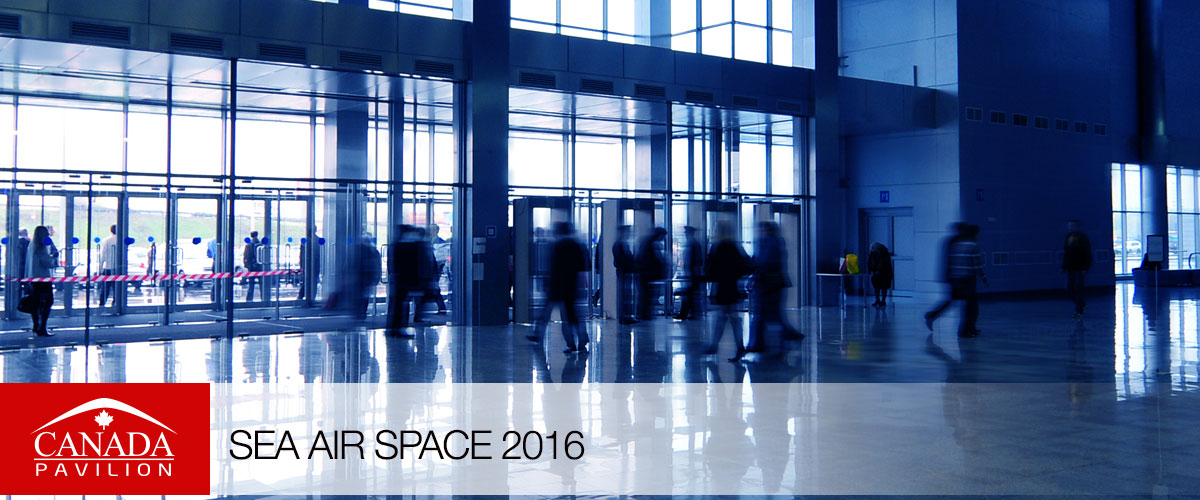 CANADIAN PAVILION AT Sea Air Space 2016
The Navy League's Sea-Air-Space Exposition brings the U.S. defense industrial base, private-sector U.S. companies and key military decision makers together for an annual innovative, educational, professional and maritime based event.
Sea-Air-Space is now the largest maritime exposition in the U.S. and continues as an invaluable extension of the Navy League's mission of maritime policy education and sea service support. The Sea-Air-Space Exposition will continue to support the mission of the Navy League and lead the way as "THE" Exposition to attend each year to display the most current information and technology relevant to maritime policy.
SAS 2015 at a glance
252 Exhibitors – a 20% growth from 2014
9,686 Visitors at SAS 2015
399 International attendees
7 International Chiefs of Staff Represented at SAS 2015
Thousands of active-duty, high-ranking officials from the U.S. Sea Services
15 international delegations and international military attendees from 48 countries
20 Sea Service Commands/Agencies
Over 200 attending members of the press and 16 media partners
90,000 sq ft. of indoor and outdoor exhibition space and water displays
80 Commands/Offices/Districts from the USN, USCG and USMC represented in 2015
Over 115 Flag and General officers and Senior Executive Service personnel were in attendance, speaking on the professional development schedule.
55% of the active duty U.S. Navy, Coast Guard and Marine Corps were at the Commander/Lieutenant Colonel (0-5) level and above.
87% of attendees in 2015 were either U.S. Military, U.S . Government, U.S. Defense Industry, Government Contractor, Foreign Military or Foreign Defense Industry
70 Professional Development Sessions – ranging from Keynotes to Roundtables to Panel Sessions – were presented at Sea-Air-Space 2015
Sea-Air-Space is a prime location for assembling key military figures, policy makers, and industry professionals. Numerous networking opportunities and events – both on and off the show floor – means you can rely on making the valuable connections that matter most to your agenda.
Canada Pavilion - Added Value Program

Business Development Activities
Access to domestic and foreign delegations visiting the Canadian Pavilion
Access to Canada meetings and lounge spaces
Invitation to the Canada Pavilion reception
Invitation to the Canada Pavilion seminar
Access to the Whole of Government Group within the Canada Pavilion

Canada Pavilion Amenities and Services
Prime exhibit location
Access to the Canadian Pavilion meeting rooms
Canada Pavilion reception desk

B2B-B2G Program
Create your own B2B/B2G meeting agenda through the SAS platform

Branding
Canadian Pavilion show guide
Canadian Pavilion branding/Banners
Walker program
Company representatives can walk the show floor and take part in the CADSI value added program. For a reasonable fee of $950 (Cdn) + HST, walkers will also take advantage of the Canada Pavilion value added program, providing them access to the Canada Pavilion Lounge strategically located on the show floor, participation in the reception, seminars, delegation visits and the Canada Pavilion marketing. To register for the walker program at Sea Air Space, please contact Richard Mabley at CADSI: 1-613-235-5337 X38 (richard@defenceandsecurity.ca)
CanExport – Direct Financial Support Program
On January 5th 2016, the Government of Canada announced a new program to increase the competitiveness of the Canadian companies internationally. CANEXPORT is destined to provide direct financial support to small and medium size companies in Canada seeking to develop new export markets. For more information on the CANEXPORT program and to apply, please follow the link below:

http://international.gc.ca/canexport/index.aspx?lang=eng

I received a fuseaction called details that circuit events does not have a handler for.