Advocacy /
Member News
October 20, 2021
Canada's Largest Indigenous-Owned Hospitality and Site Management Company Joins the Babcock Leonardo Canadian Aircrew Training Team
Ottawa, 20 October 2021 – Babcock Leonardo Canadian Aircrew Training is proud to announce Athabasca Catering Limited Partnership (Athabasca Catering) as a new strategic partner for Canada's Future Aircrew Training (FAcT) program.
Athabasca Catering is Canada's largest Indigenous-owned hospitality and site management company offering authentic, personalized experiences that rely on the highest standard of training, safety, and quality. The company reinforces positive influences, community empowerment, economic commitments, and mutual respect throughout their business partnerships, and serves Canadian industries with pride in all that they do.
The company offers unparalleled services and a personalized approach for their partners while remaining authentic to their core values and Indigenous roots. Athabasca Catering is committed to the communities in which it serves and operates. By offering employment and economic opportunities, training and safety services, and community-focused partnerships, Athabasca Catering is in the business of building and developing a stronger, more empowered generation of thinkers and doers.
"It has been my hope, and the hope of leaders past, to create opportunity for our members through responsible ventures. We have successful businesses, trained members, and more financially stable families because of the partnerships we have created. We want to build on these successes, by delivering to the requirements expected of us in this partnership as we continue building healthy and independent communities where we operate." Chief Tammy Cook-Searson, Chief of Lac La Ronge Indian Band & President of Athabasca Holding Corp
Athabasca Catering is 100% Indigenous-owned and understands the values and traditions of the communities in which they operate, always striving to give back through opportunities and growth.
"By recognizing the competencies Athabasca Catering Limited Partnership is able to deliver in support of the FAcT opportunity, Babcock Leonardo Canadian Aircrew Training has embraced a thorough understanding of the positive impact and contribution Indigenous organizations can provide to the success of its business operations on such a large scale. This is an enlightening and welcome step in the right direction and an example to industry, Canada wide." Alan Cole, Managing Director, Athabasca Catering Limited Partnership
The partnership between Athabasca Catering and Babcock Leonardo Canadian Aircrew Training will be an unprecedented alliance to meet the needs of the Royal Canadian Air Force. This partnership will provide a further investment into the economies of Indigenous communities in Saskatchewan and Manitoba. This commitment and collaboration with Indigenous communities and partners will be a step toward empowering and supporting local communities and ensuring a future of opportunities and ownership.
"We are thrilled to have Athabasca Catering join the Babcock Leonardo Canadian Aircrew Training team. Athabasca Catering was selected as a partner because of their commitment to high-quality experiences with all of their services, their dedication to providing training and safety, coupled with their understanding and respect for Indigenous culture and heritage," says Jana Lee Murray, Program Director, Babcock Leonardo Canadian Aircrew Training.
Babcock Leonardo Canadian Aircrew Training is excited for what Athabasca Catering is bringing to the Team, with strong prairie roots, a deep connection to Indigenous Peoples, an unwavering commitment to sustainable practices, and support for small businesses.
This is the first of many long-term partnerships Babcock Leonardo Canadian Aircrew Training will develop with Indigenous businesses. The team recognizes the many opportunities that the FAcT program offers to organizations of all sizes, and looks forward to bringing Indigenous partnerships to many areas of the overall solution.
Ends
About Babcock and Leonardo
With 80,000 employees globally and sites in over 50 countries, the two companies count over $25B CAD in combined annual revenue. With over 1,000 Canadian employees and 12 Canadian sites, together Babcock and Leonardo have been working in Canada for over 50 years.
About FAcT (Future Aircrew Training) Program
The Canadian Government is seeking to procure a comprehensive aircrew training program that provides aircraft, ground based training systems, civilian instructors, as well as other essential services, such as air traffic control, aircraft and airfield maintenance, accommodation, and food services for the Royal Canadian Air Force. The 25-year contract is expected to be awarded in 2023.
Media Contacts:
Nicholas Avellaneda | Head of Marketing & Communications
Tel: (613) 369-5321 | Mob: (613) 295-3120 | Nicholas.Avellaneda@babcockinternational.com
Stefano Somma | Aeronautics Industry Communication
Tel: +39 06 32473698 | Mob: +39 3357317483 | stefano.somma@leonardocompany.com
About CADSI
The Canadian Association of Defence and Security Industries (CADSI) is the national industry voice of more than 900 Canadian defence and security companies that produce world-class goods, services and technologies made across Canada and sought the world over. The industries contribute to the employment of more than 60,000 Canadians and generate $10 billion in annual revenues, roughly 60 per cent of which come from exports. To learn more, visit defenceandsecurity.ca and follow us on Twitter at @CadsiCanada .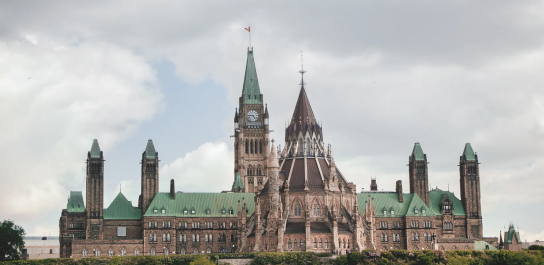 Media Inquiries
Please direct all media inquiries to:
Tel: +1 613-235-5337 x43
The Canadian Association of Defence and Security Industries
251 Laurier Ave. West, Suite 300 Ottawa, ON, K1P 5J6