Advocacy /
CADSI News
May 27, 2020
COVID-19 Membership Update – Business Resumption Planning, New IDEaS Challenges, Resources for Businesses
Dear Member,
Please find below CADSI's latest update as we keep you informed of policy decisions and news affecting your business during the COVID-19 pandemic.   
Reserve your spot for our Defence Industry Check-In Call this Thursday
Rear Admiral Christopher Earl, Chief of Staff (Materiel) at the Department of National Defence, will join CADSI's Members-Only Defence Industry Check-In call on Thursday, May 28 at 3 pm EDT to discuss and answer your questions on:
What DND/CAF business resumption planning means for you.
What you need to do if you work onsite or need to visit DND or CAF facilities.
How the CAF and industry can keep pace with each other as we resume business together, in a coordinated manner.
DND's new Public Health Measures (PHM).
Send us your questions
To maximize the time we have, we are asking Members to send questions by email to questions@defenceandsecurity.ca. Similar questions will be grouped and we will endeavour to get everyone a response.
Register now
Space is limited and filling up fast. Reserve your spot by registering on our events page. (link: bit.ly/2xWjm42)
Please also take a moment to review these reference documents prior to the call:
Joint Directive - DND/CAF COVID-19 Public Health Measures and Personal Protection here. (link: bit.ly/3cdOH0Y)
CFTO on Non-Medical Face Coverings here. (link: bit.ly/2yywBZ8)
---
New IDEaS COVID-19 Challenges
As part of a federal initiative seeking innovative solutions to help fight COVID-19, the Innovation for Defence and Security (IDEaS) program has launched three new challenges to strengthen Canada's ability to anticipate, prepare for, and respond to future pandemics, as well as other emergencies such as natural disasters or terrorist attacks.
The following challenges are now available:
Rapid response: Real-time insights for pandemic decision-making
Scrubbing your scrubs: Finding ways to re-use COVID-19 protective gear
Super sanitize: Cleaning sensitive equipment and workspaces
Innovators are invited to submit proposals until June 23, 2020.
Learn more here (link: canada.ca/en/department-national-defence/programs/defence-ideas/understanding-ideas/sandbox/covid19-challenges.html).
---
New COVID-19 Resources for Businesses
The federal government continues to roll-out resources to help businesses manage and recover from the economic impacts of COVID-19. Find the latest updates below.
CADSI is committed to keeping you informed. If you need more information on a topic that hasn't been covered in our updates or if CADSI can assist you in any way, please email Mindy Pearce at mindy@defenceandsecurity.ca.
About CADSI
The Canadian Association of Defence and Security Industries (CADSI) is the national industry voice of more than 900 Canadian defence and security companies that produce world-class goods, services and technologies made across Canada and sought the world over. The industries contribute to the employment of more than 60,000 Canadians and generate $10 billion in annual revenues, roughly 60 per cent of which come from exports. To learn more, visit defenceandsecurity.ca and follow us on Twitter at @CadsiCanada .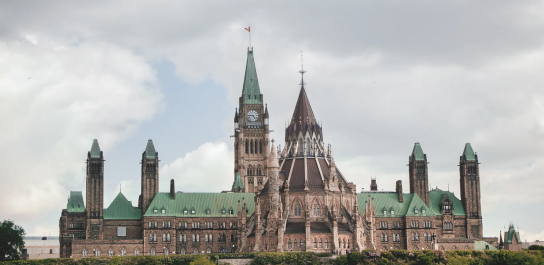 Media Inquiries
Please direct all media inquiries to:
Tel: +1 613-235-5337 x43
The Canadian Association of Defence and Security Industries
251 Laurier Ave. West, Suite 300 Ottawa, ON, K1P 5J6