Advocacy /
CADSI News
April 9, 2020
COVID-19 Membership Update - Government Concludes Export Permit Review, Share Your Contributions to COVID-19, New R&D Challenge
Dear Member,
Please find below CADSI's latest update as we keep you informed of policy decisions affecting your business during the COVID-19 pandemic.
Government concludes review of exports to Saudi Arabia; provides update on export controls
Today Foreign Affairs Minister François-Philippe Champagne and Bill Morneau, Minister of Finance, confirmed that the review conducted by Global Affairs Canada of export permits to the Kingdom of Saudi Arabia is now complete. As such, the Minister of Foreign Affairs is ready to review permit applications to Saudi Arabia on a case-by-case basis. The government also stated that it will ensure all permits undergo a rigorous review to ensure they comply with Canadian laws and the U.N. Arms Trade Treaty. Timelines for securing approvals will be longer than the previous 40-day service standard, so CADSI recommends members plan accordingly.
Christyn Cianfarani, President and CEO of CADSI, issued the following statement today in response to the federal government's announcement:
"CADSI views the announcement made by the Government of Canada today as a positive step forward. These actions taken by the government will have a significant impact on our sector at a moment of great uncertainty, maintaining jobs across Canada's defence and security industries and supply chains in these challenging times.
The industry also looks forward to playing an active role in multilateral discussions to help raise the bar globally on responsible defence exports under the United Nations Arms Treaty. Canada's defence and security industries have long supported Canada's accession to the UN ATT."
The full announcement from the Government of Canada can be found here (link: canada.ca/en/global-affairs/news/2020/04/canada-improves-terms-of-light-armored-vehicles-contract-putting-in-place-a-new-robust-permits-review-process.html)
---
Share your contributions to Canada's COVID-19 Emergency Response
At CADSI, we know that Canada's defence and security companies are always on guard to keep Canadians and our allies safe. Now, as we battle the invisible enemy that is COVID-19, you are rising to new challenges and stepping up where help is needed most.
To help us share your products, services, and support with those who need it most, we invite you to do two quick things.
1) If you do not already have a CADSI GATEWAYcapabilities profile, please create one and update it with your COVID-19 offerings. This tool allows you to showcase the breadth of your business capabilities with industry and government partners:
If you have any questions about the GATEWAYcapabilities, please contact Christina Amos by emailing membership@defenceandsecurity.ca.
2) Share your best examples and stories in the short, 5-minute survey below. By participating, CADSI will have the information we need to share your good work in storytelling campaigns on our website, social media, and at CANSEC 2021. Specifically, we want to know how you are supporting:
CAF readiness
Health care providers on the frontlines
Your local community
Participate in the survey here (link: https://www.surveymonkey.com/r/NSKNY7W)
If you have any questions about the survey or our storytelling campaign, please contact Kathryn Forrest by emailing kathryn@defenceandsecurity.ca.
Thank you for your participation and for everything you are doing to keep Canadians safe.
---
CADSI's Weekly Defence Industry Check-in Calls
Thank you very much to our members who participated in today's Defence Industry Check-In call. Your comments were very much appreciated, and we will follow up with those of you who raised specific challenges.
Here are the links and contact information mentioned on the call:
Statistics Canada's Canadian Survey on Business Conditions (link: statcan.gc.ca/CSBC) Please fill out the survey so government policy makers can get an accurate picture of the defence industry.
CBRN.ca (link: canadianbusinessresiliencenetwork.ca/) The one-stop-shop offers information on containment measures, business continuity, support for business and recovery information you need to help you manage the COVID-19 pandemic.
If you have any feedback or input to make next week's call more valuable to you, please email Mindy Pearce mindy@defenceandsecurity.ca.
The Defence Industry Check-In calls will run until April 30th. We will continue the calls thereafter if there is demand from members.
You can sign up for the call on our events page (link: defenceandsecurity.ca/events/details&evtID=417)
---
New R&D Challenge: Made in Canada N95 filtration material
The National Research Council of Canada has launched a challenge to find new efficient filtration material for N95 respirators and surgical masks.
The winning company could receive up to $1 million for Phase 1 (7 days) and up to $5 million for Phase 2 (4 weeks).
The challenge closes April 13, 2020.
If your company would like to compete, please visit the Innovative Solutions Canada website (link: ic.gc.ca/eic/site/101.nsf/eng/00102.html).
CADSI is committed to keeping you informed. If you need more information on a topic that hasn't been covered in our updates or if CADSI can assist you in any way, please email Mindy Pearce at mindy@defenceandsecurity.ca.
About CADSI
The Canadian Association of Defence and Security Industries (CADSI) is the national industry voice of more than 900 Canadian defence and security companies that produce world-class goods, services and technologies made across Canada and sought the world over. The industries contribute to the employment of more than 60,000 Canadians and generate $10 billion in annual revenues, roughly 60 per cent of which come from exports. To learn more, visit www.defenceandsecurity.ca and follow us on Twitter at @CadsiCanada .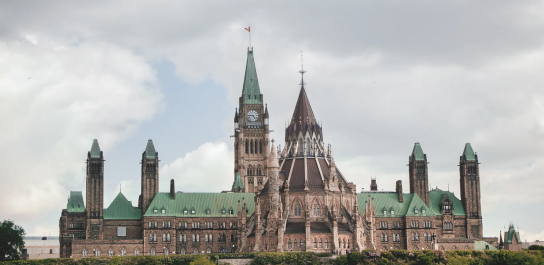 Media Inquiries
Please direct all media inquiries to:
Tel: +1 613-235-5337 x43
The Canadian Association of Defence and Security Industries
251 Laurier Ave. West, Suite 300 Ottawa, ON, K1P 5J6