CADSI News Story
IDEX 2015: Canadian capabilities on display
CADSI and partners help showcase Canadian defence products and services at IDEX 2015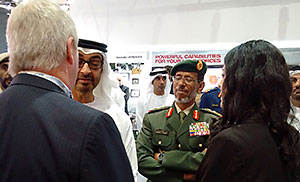 Left to right: General (retired) Rick Hillier, His Highness Sheikh Mohammed bin Zayed Al Nayan, Crown Prince of the UAE, General Hamad Mohammed Thani Al Rumeithy, Chief of Staff of the UAE Forces, Christyn Cianfarani, CADSI President)
Ottawa, March 3, 2015 -- Canada proudly displayed its defence and security capabilities at the International Defence Exhibition and Conference (IDEX) in Abu Dhabi last week and quickly caught the attention of the Crown Prince of the United Arab Emirates, whose country hosts the biennial show.
IDEX, which attracts more than 1,100 exhibitors and 80,000 delegates to Abu Dhabi, is the only international defence exhibition and conference in the Middle East and North African region demonstrating the latest technology across land, sea and air sectors of defence.
"We were honoured and thrilled to have His Highness Sheikh Mohammed bin Zayed Al Nayan of the UAE, as well as Crown Prince Hussein bin Abdullah of Jordan, escorted through the Canada Pavilion to visit with some of the more than 17 companies representing Canada this year," said CADSI President Christyn Cianfarani. "His Highness came unannounced – something incredibly rare – to acknowledge relationships built by key Canadian companies exporting to the region. Show organizers tell us that it was also a show of respect for the effort undertaken by Canada."
The Canadian presence in Abu Dhabi was its largest yet for an international defence trade show, showing a triple-digit increase in only two years. This year, Canada boasted more than 50 defence and security companies in total, of which the Canada Pavilion hosted 17 exhibiting companies and 10 non-exhibiting Canadian firms, up dramatically from four exhibitors and four non-exhibiting companies in 2013.
"CADSI is pursuing a very active international program this year, building the brand internationally and bringing as many companies as we can under the umbrella of the Canada Pavilion," Cianfarani said. "The red, white and maple leaf is a strong and well-respected brand world-wide, much like our companies who do business in the region."
Under Canada's Global Markets Action Plan, unveiled in 2013, defence is identified as a priority sector for export-led growth. Also, the 2014 Defence Procurement Strategy has set a 40% growth target for export revenue by the Canadian defence sector over the 10 years.
Currently, the Canadian defence and security industrial sector earns half of its almost $13 billion in annual revenues from exports, most of which is derived from specialized military vehicles, high-tech electronics, aerospace and simulation products, in-service support, and repair and overhaul services. Many of these products and services have dual use, commercial applications.
"Real opportunities exist in the international marketplace for Canadian defence products and services," said Cianfarani. "We know that government-industry partnerships are essential to seizing them. IDEX was a big success for our sector and was a great example of how Canadian industry rolls up its sleeves, gets out there and does what it takes to grow the export business in a challenging and highly competitive international marketplace. We are continuously punching above our weight and it was nice to be recognized for it."
Posted 2015-03-04
Last Modified 2015-03-04 08:33