Event Details
NATO Business Opportunities Web Series, Part 1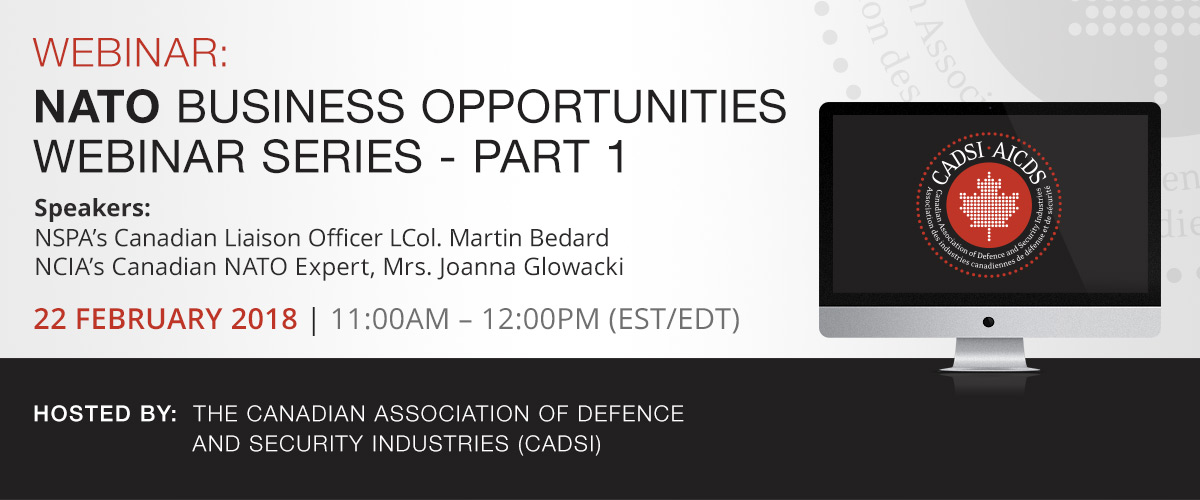 Educate your Company about doing business with NSPA and NCIA
NATO is procuring annually over CAD$ 5.5B of goods and services. Are you making the most of those various opportunities? As CADSI's objective is to assist Canadian companies in preparing for such procurement opportunities, we are introducing our new NATO Business opportunities Webinar series comprising of two webinars in 2018. This webinar series is designed to educate and inform you about the business environment promoting new opportunities, and explaining submission details for the two main NATO Procurement Agencies, the NATO Support and procurement Agency (NSPA) and the NATO Communication and Information Agency (NCIA).
Join NSPA's Canadian Liaison Officer LCol. Martin Bedard from Luxembourg, NCIA's Canadian NATO Expert, Mrs Joanna Glowacki and CADSI on February 22nd, 2018 for the first of two informative webinars on the NATO Business opportunities.
NSPA's mission is to provide responsive, effective, and cost-efficient acquisitions including armaments procurement; logistics; operational and systems support and services to the Allies, NATO Military Authorities and partner nations. NSPA employs more than1300 staff and is headquartered in Luxembourg (Capellan).

NCIA's mission is to deliver secure, coherent, cost effective and interoperable communications and information systems and services in support of consultation, command & control and enabling intelligence, surveillance and reconnaissance capabilities, for NATO. NCIA employs more than 2400 staff and is headquartered in Brussels (Belgium).
To learn more, visit https://www.defenceandsecurity.ca/events/list or email international@defenceandsecurity.ca
Speakers:
LCol. Martin Bedard, Canadian Liaison Officer at NSPA
Mrs Joanna Glowacki, Canadian NATO Expert at NCIA
Date: February 22nd, 2018
Time: 11:00 – 12:00 EST/EDT
Cost: Registration is free
Note: Space is limited. Information on how to connect to the browser-based webinar will be emailed to registrants before the event.