Event Details
Ottawa SME Day 2016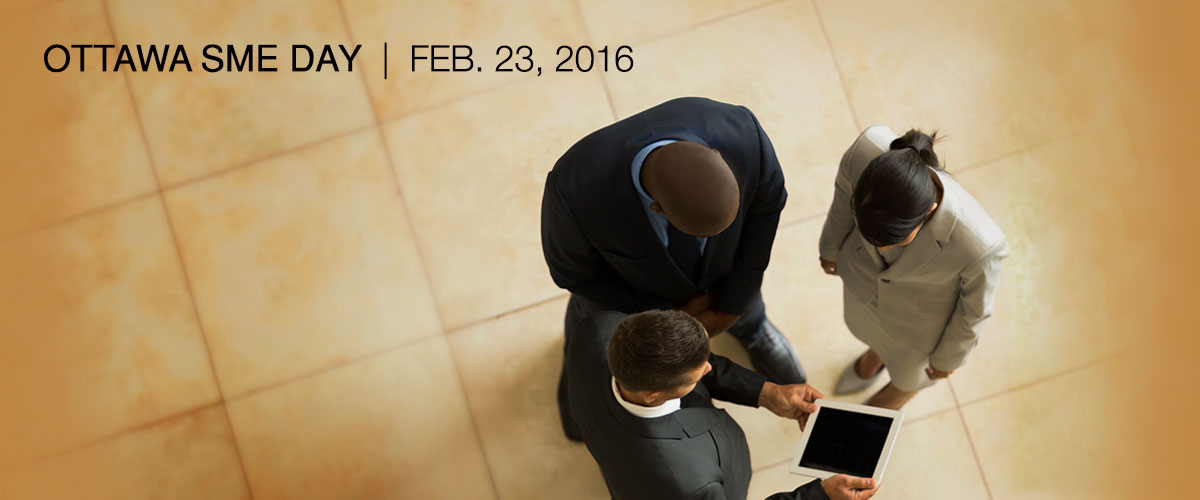 The B2B Tool is now open for appointment booking
Why you should be at Ottawa SME Day 2016:
Your small- to medium-sized enterprise (SME) is trying to navigate the maze of the defence and security procurement process in Canada.

You want to know more about the programs available to assist Canadian SME's in their business development goals.

You are looking to connect with Canadian government and OEM's to introduce your products and services in a one-on-one meetings.
SME Day Ottawa has a long standing history of educating the industry's SMEs and bridging the gap between OEMs, governments and Canadian SMEs. The day starts with an insightful morning program geared to informing SMEs of the current programs and best practices for their success followed by a full afternoon of targeted 15-minute business development meetings.
Here's how the business development meetings work:
Each registrant is given access to an on-line schedule to pre-book meetings with business managers from Industry Canada, regional development agencies and various OEMs. On the afternoon of February 23rd, all of the invited industry buyers have a designated table where registrants will join them for a 15-minute appointment. This is a premier opportunity to meet with industry buyers, introduce your products and services and develop new contacts.

The week of February 12th, registrants are sent an email with all the information on how to book meetings. All meetings are booked on-line in real time—no one can take your appointment once it's booked! It is first-come-first-serve and early registration will have the best selection for their meetings.
Are you an OEM who has current and future procurement requirements and are looking to meeting SMEs that can supply products and services that will support your projects?
CADSI is currently accepting OEM's who wish to host a table to meet Canadian defence and security SMEs. OEMs receive one complimentary registration to attend SME Day 2016. Please contact Theresa Ellwood at theresa@defenceandsecurity.ca or 613-235-5337 ext 28 to reserve your spot.
Current Industry Representatives who are hosting a table at the B2B Session
ACOA/APECA
Babcock Canada
BMT Fleet Technology Ltd.
Build in Canada Innovation Program (BCIP)
CADSI
Canadian Commercial Corporation
DEW
Economic Devel. Agency for the Regions of Quebec
GE Canada
General Dynamics
General Dynamics Land Systems-Canada
General Dynamics Mission Systems
Global Affairs Canada
IMP Aerospace
Industrial Technologies Office
Industry Canada - Air
Industry Canada - Land
Industry Canada - Marine
NRC Concierge Advisor
NRC-IRAP Concierge Innovation Advisor
PWGSC Small & Medium Enterprises
Raytheon
Rheinmetall Canada
Seaspan Shipyard
The Boeing Company
Western Economic Diversification Canada
Embassy of UAE
Quantius
Lockheed Martin Canada
BAE Systems
Industrial Research Assistance Program
MTU Maintenance
SME Day Agenda subject to modifications
Ottawa SME Business Development Program is now open
CADSI is pleased to launch the 2016 SME B2B/G Meeting Program – complimentary to all delegates who have registered for Ottawa SME Day.
This program will allow registrants to connect with Industry representatives by pre-booking 15-minute meetings that will take place in the afternoon B2B session.
How to book your 15 minute meetings.
Tips for successful participation in the program.

1. Complete your contact profile – this will provide information on the products and services you provide.

2. Pre-print your schedule – due to volume of participants and onsite capabilities we cannot print participant schedules.
3. Meetings are strictly limited to 15 minutes only with a 5 minute travel time. Please conclude your meeting at the sound of the bell.
4. Smooth Meeting Transitions: Be ready and waiting for your meeting start times. Once notification is given that your 15 minutes are up we request
that you quickly move on to your next meeting. Keeping quick transitions between meetings allows all delegates to maximize their time at each appointment.
5. Be sure to check back often as our list of Industry Representatives grows every day.