Event Details
Eurosatory 2016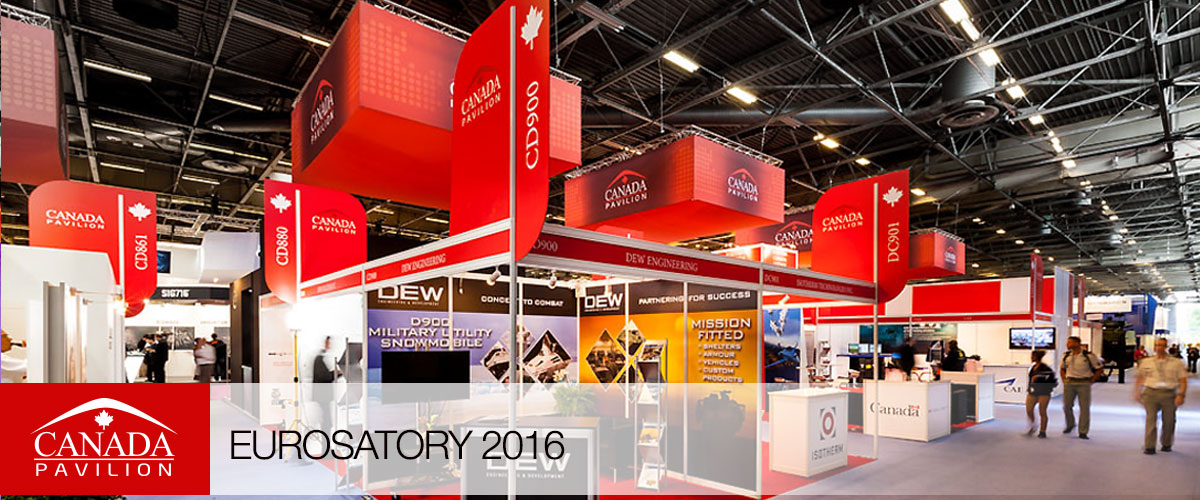 Participate in the CanadA Pavilion at Eurosatory 2016
Eurosatory is one of the leading defence and security exhibitions worldwide, drawing large numbers of international delegates from the defence and security sectors. In 2014 over 55,784 visitors from 143 countries, including 7652 representatives from Armed Forces and Security Agencies worldwide.
Eurosatory 2014 at a glance
1,507 exhibitors – of which 70% International, from 58 countries
55,784 Visitors from 143 countries in 2014 of which 7,652 representatives from Armed Forces and Security Agencies
172 Official Delegations from 87 countries
707 Journalists all continents
More than 450 new products displayed at the Exhibition in 2014
Participate in the One-to-One Defense & Security Business Meetings 3,068 in 2014
More than half of the Official Delegations are led by high authorities:

11 Ministers and 26 Vice-Ministers and Secretaries of State
27 Chiefs of Staff, 24 National Armament Directors
Eurosatory attracts top level international military staff, major procurement officials, and the entire industry supply chain, from large prime contractors to supplying companies. Eurosatory, a unique platform for exchange, offers your company unrivalled visibility and a chance to reinforce your standing on the world market in the long term.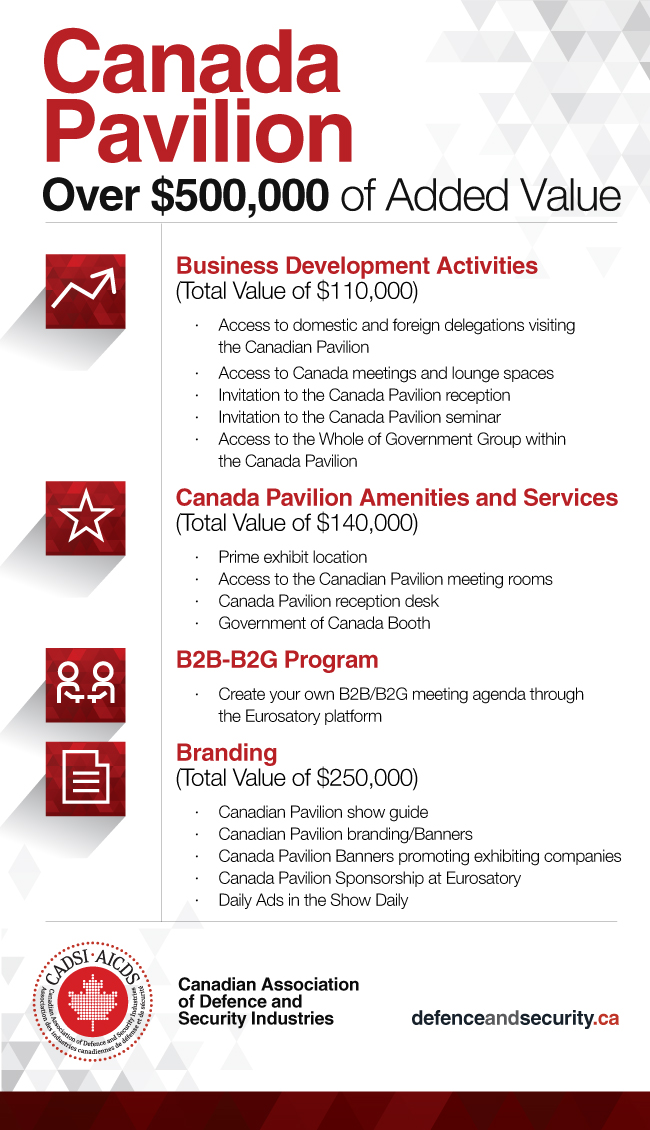 Book your exhibit space now:
Exhibit space in the Canada Pavilion is still available, now is the time to make your market at Eurosatory 2016. To purchase exhibit space in the Canada Pavilion, please contact Richard Mabley from CADSI at: +1 613-235-5337 richard@defenceandsecurity.ca

Contract

Pavilion Locator

Canada Pavilion Layout
B2B Matchmaking Program at Eurosatory 2016
The Canadian Association of Defence and Security Industries (CADSI), in partnership with Altios International, the Canadian Trade Commissioner Service and the Department of National Defence (DND), will be offering a business-to-business (B2B) matchmaking program during Eurosatory 2016. The program will provide meeting opportunities for Canadian suppliers with International buyers, partners and/or key stake holders attending Eurosatory, within the Canada Pavilion.
For more information on the B2B/B2G match-making program and/or government financial support to SMEs, please contact Richard Mabley at CADSI: 1-613-235-5337 X38 (richard@defenceandsecurity.ca)
Walker program
It is also possible for company representatives to walk the show floor and take part in the CADSI value added program. For a fee of $950 (Cdn) + HST, walkers will also take advantage of the Canada Pavilion value added program, providing them access to the meeting rooms, participation in the reception, seminars, delegation visits and the Canada lounge area. To register as a walker at Eurosatory, please contact Richard Mabley at CADSI: 1-613-235-5337 X38 (richard@defenceandsecurity.ca)
CanExport – Direct Financial Support Program
On January 5th 2016, the Government of Canada announced a new program to increase the competitiveness of the Canadian companies internationally. CANEXPORT is destined to provide direct financial support to small and medium size companies in Canada seeking to develop new export markets. For more information on the CANEXPORT program and to apply, please follow the link below: