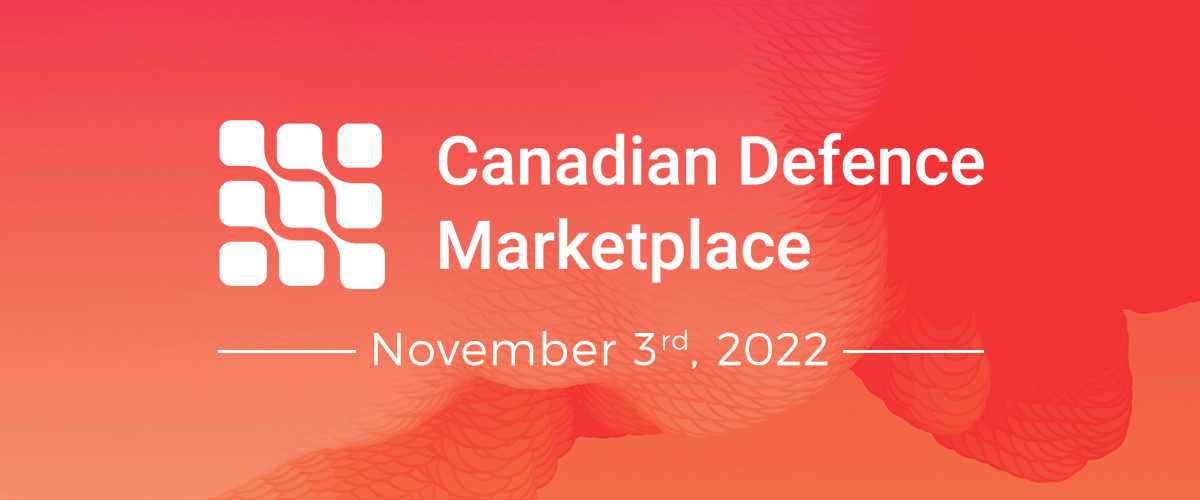 events
Canadian Defence Marketplace 2022 (CDM)
Event Description
Canadian Defence Marketplace is an innovative global platform bringing industry and government leaders together for virtual business-to-business and business-to-government meetings on November 3, 2022.
What Canadian Defence Marketplace is NOT is a trade show. Instead, CDM is a global platform that offers you access to international buyers, distributors, and decision-makers interested in your products and services. The virtual nature of the marketplace allows for secure, private, and unlimited 20-minute B2B and B2G meetings on the event days through video conferencing from wherever you are in the world.

Who Should Attend?
Canadian Defence Marketplace will host government agencies, military leaders, defence and security companie advanced manufacturing, cyber and digital businesses, emerging tech, supply chains, innovation & tech hubs and much more from around the world.

A few of the sectors and businesses that will be in attendance are:
3D Printing, Advanced Manufacturing, Artificial Intelligence, Augmented Reality, C4ISR, Ship Design, Autonomous Vehicles, Big Data, Blockchain, Clean Tech, ISS, Soldier Systems, Cloud Computing, Cyber Defence, Cyber Security, Drones, Naval Systems, Space Platforms, Machine Learning, Robotics, Training & Simulation, Aerospace Services, Platform Systems, Vehicles, and many more... will you be there?

Are you a government buyer or regional development agency looking to connect with Canadian and international companies possessing specific capabilities? Click here to learn how you can participate and how we can help you meet your KPIs.
Event Details
Register
Add to calendar
Print page
Share
Event fees
Early Bird Rates
CADSI Members: $534
Government: $303
Non-Members: $688

New Canadian Defence Marketplace B2B/G + SME Day Canada Conference Package just announced.
Unlock access to B2B/G meetings on November 3, 2022, through the Canadian Defence Marketplace virtual event + receive all the benefits of SME Day Canada as well!
Location
Online
A Virtual B2B/G Experience
Why attend?
Support: The CDM is endorsed by various Government of Canada partners who will be present on CDM event days.

Global Reach: International buyers, distributors and decision-makers interested in your products and services.

One to One: Private video conferencing with new prospects, partners and customers.

Access: A multi-sector audience from around the globe.

Secure: Enhanced, reliable and unlimited 20-minute meetings hosted within the CDM platform on event days.